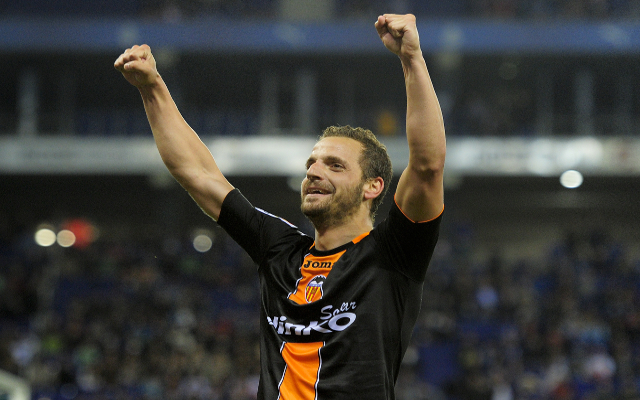 Roberto Soldado- Valencia
One of Bale's most crucial roles for Spurs last season was as a goal scorer. He was the clubs top goal scorer and found the net 21 times in the Premier League. He scored a wide variety of goals, from the simple tap in to the wonderful long distance strike. He scored so many goals for Spurs that some even suggested that the club were a one man team. Arguably the most crucial area that Spurs will need to address if Bale leaves is in the goal scoring department. The club need to sign a prolific striker who will find the net on  a regular basis and there aren't many better that Roberto Soldado.
The Spaniard is one of La Liga's most prolific front-men, having scored 28 league goals for Valencia last season. He is a player who will be in the right place at the right time to put the ball into the net and that is definitely something that the club desperately need. Reports suggest that Spurs are in the hunt to sign the prolific Spaniard, even if Bale doesn't leave. The club have sent their technical director, Franco Baldini, over to Spain to negotiate a deal with the Spanish club. Spurs have already submitted several bids for the striker but Valencia's president is holding out for a bid of £25 million, which would activate Soldado's buy-out clause.
It is understood that Spurs are unwilling to pay that much for a player that will have little sell on value due to his age. However, should Bale leave, Spurs can't afford to be picky and will need someone who can regularly find the net for them if they are to stand any chance of breaking into the Premier League's top four. With a sizeable transfer fee coming from Bale's sale, money shouldn't be a problem for Spurs and a deal could be completed quickly. However, Liverpool are reportedly interested in signing Soldado and see him as a replacement for Luis Suarez, who looks to be Arsenal bound. Spurs can't afford to lose Soldado to another Premier League rival and will need complete a deal quickly so that they can sign a player who will need to find the net on a regular basis next season.