At 34 Humphrey is BT Sport's star signing, but can the broadcaster really take on the big boys?
There is much talk of an Olympic legacy after London 2012, but new broadcast service BT Sport have taken that sentiment literally by basing themselves in the shell of the old media building in Stratford.
Just 24 weeks ago the service was simply a proposal, now it is a hub that includes a state-of-the-art studio of the likes never quite seen in this country and a star-studded team headed by former BBC Formula 1 presenter Jake Humphrey – along with Clare Balding, Rio Ferdinand and Michael Owen, to name a few.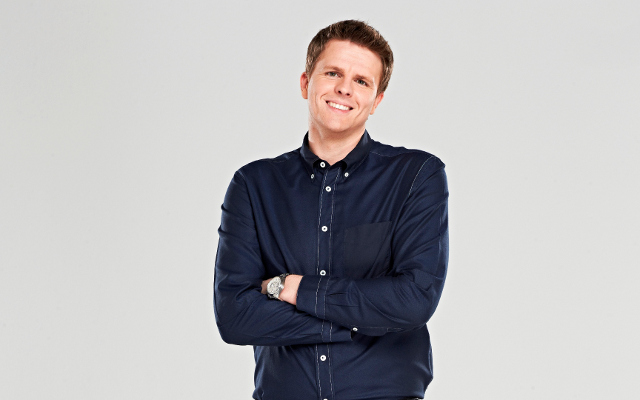 Humphrey is the face of football on BT Sport after they bagged the rights to 38 Premier League matches in 2013/14 and prepare to take Sky Sports head on. It's something the 34-year-old is clearly keen to get started on.
"It's amazing to be involved with BT Sport. I was 26 when I presented my first Sports Personality of the Year, 28 when I got offered the Formula 1 job. So I've had these amazing opportunities at quite a young age and then to be offered, at the age of 34, the chance to launch a brand new sports channel. This is not the sort of thing that will probably happen again in my broadcasting career," the new anchor exclusively told CaughtOffside.
"The last sports channel to launch was Sky over 20 years ago and there's no question it's one of the most exciting things to happen in sports broadcasting in the last 20 years."
The issue of Sky is one that is in most people's minds when referencing BT, as the debacle of Setanta Sports has shown that taking on the Murdoch Empire is easier said than done and it's a subject Humphrey is happy to discuss.
"It's vital for Sky to have competition. All this talk about Sky vs BT – I don't buy into that. What I think is the best thing for this country is to have a really credible rival to Sky.
It's difficult to take on Sky because they've got more games and they've got better games. But we're right at the infancy; we're right at the start," he continued.
"We're not saying BT have got better Premier League matches and more Premier League matches than Sky have got. What we're saying is BT are going to do this completely differently to Sky."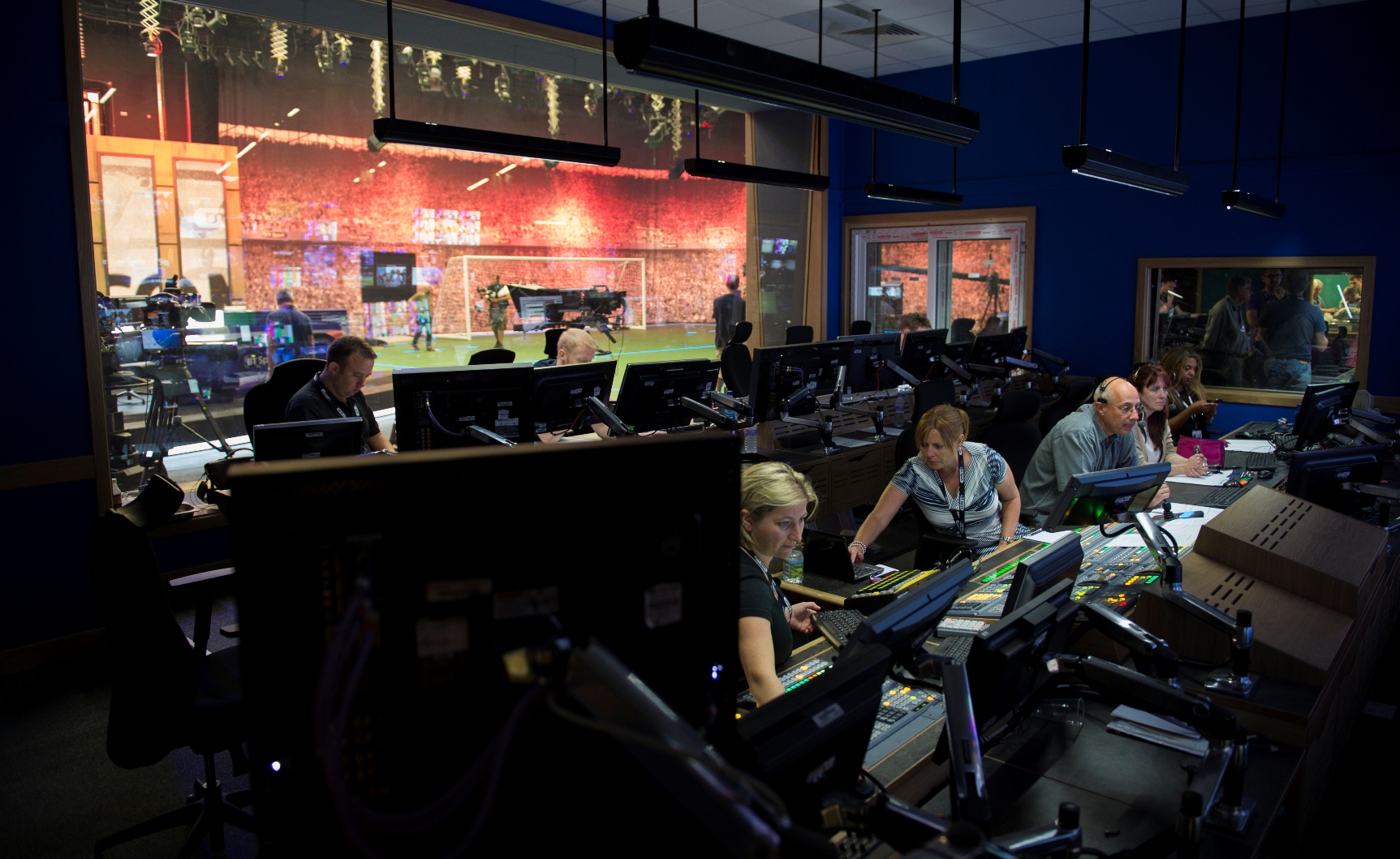 On a technical level no money has been spared, as a brand new studio boasts an interactive pitch, where pundits can reenact key moments from the match and a dominating cylinder of screens built in honour of the BT tower. It's all very impressive but no football fan really engages in a studio, it's what's being said that is important. Humphrey agrees.
"We must continue to make demands of the Premier League. We need better access to players. I would love to have cameras in the dressing room. I know that's not easy but I would love it to happen because I think I people are seeing in other sports greater access all the time," the ex-CBBC presenter tells CaughtOffside.
"Whether that's ref cam in rugby, or whether it's being on the grid with the driver two minutes a Formula 1 race. I think the one thing the Premier League need to do is start opening their doors a bit more and making life easier for us, which in turn gets the audience in.
"Technology in sport, such as Hot Spot and Hawk Eye and the touch screen is all looking brilliant. But the stuff that happens in the TV studio hasn't moved on for so long, it's still two or three guys sitting round a desk, discussing a goal. That's not good enough for us, we need to be better than that."

Since the reinvention of the school of football punditry by none other than Sky Sports' Gary Neville, simply telling the audience what happens after a game is now old hat and BT Sport will be judged on the quality of their pundits. Well the names are certainly well known – with the list reading like a who's who of England internationals from the past 15 years – but what they offer remains to be seen.
"I think Owen [Hargreaves] is brilliant," Humphrey says of the former Manchester United midfielder, who is relatively unknown as a media figure.
"I think Owen is frustrated because he was England's best player at the 2006 World Cup and then got the chance to move to Manchester United in a big money deal and then injury problems struck. It was simply injury after injury.
"I think there was a feeling of a slight sense of loss and a bit of mourning for his previous career and I think because of that, he will want to make a real hit and success out of this.
"The rest of the guys have impressed me as well. Michael Owen has been in almost every day for the last month practicing to make sure his punditry and commentary is up to scratch.
"David James living on an island just off Iceland is bringing the Eddie Jordan factor, as he's a bit mad and got an incredible personality.
"Macca's [Steve McManaman] got loads of experience doing punditry so I think the combination is absolutely bang on, I really do."
The real question though was about football, as although Humphrey has spent seven years on British screens presenting sport, it's a whole new dimension for the Norwich City fan to be fronting the beautiful game for an entire broadcaster. Therefore CaughtOffside wanted to know the presenter's predictions – and there was no holding back.
"I think Manchester City are going to win the league. I think the money that they've spent and the fact they've done it early. The fact that they've brought in a new manager brings a new impetus," Humphrey reveals.
"I don't understand how City were able to buy Navas because I think he's brilliant and it always worries me why players like him who are in their prime are allowed to leave their club.
"I think Jose Mourinho returning to Chelsea will give them a boost, but I'm not sure it's going to be a big enough boost to bridge the gaps – particularly at the back.
"They've got some great talent there, but I think they need to improve by shoring up at the back a bit and they need a striker. Chelsea will be second."
"I think Man U being third odds for the title is probably about right actually. I think it's going to be very difficult for David Moyes, particularly as they haven't done any business.
"I'm convinced that Valencia has lost the No.7 shirt because Cristiano Ronaldo is going to come and take it before the season starts. That's just me wishful thinking though that we'll get Ronaldo returning to the Premier League!"
BT Sport has now been live for nearly two weeks, but the real test starts on Saturday when they cover their first live Premier League match when Liverpool host Stoke City and Humphrey is ready to head the new team into the world of football broadcasting.
"All the things are there. We've just got to make sure we get it right – I liken our studio to the Emirates or the Etihad, great stadiums but now it's got be filled with great football. Hopefully we will."
Jake Humphrey is lead anchor on BT Sport's coverage of 38 exclusively live Barclays Premier League Football matches. BT Sport is free with BT broadband, to find out more visit www.btsport.com