A combined lineup of the best players from both sides of Manchester.
Check in to Manchester City vs Manchester United
While both clubs go into the first Manchester Derby of the season with new managers taking charge, there are also some new faces on the pitch, with City in particular spending big on new signings this summer, in an attempt to topple their local rivals at the top of the Premier League table. As ever, there will be plenty of top talent on show when these two sides meet at the Etihad Stadium this weekend, and here is a starting XI of the best the two teams have to offer.
Defence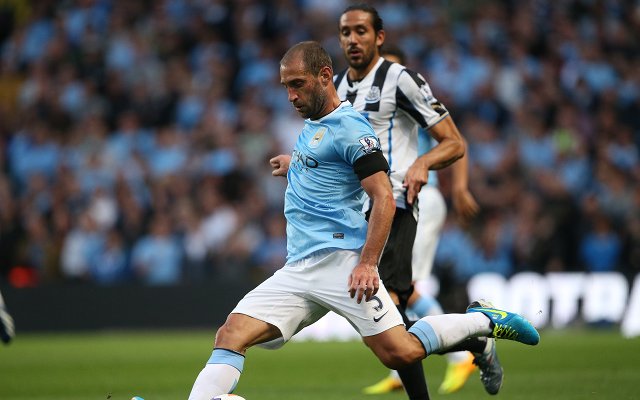 David de Gea – Although Joe Hart has been one of the best goalkeepers in the country and perhaps the world over the last couple of years, there are some worrying signs for City that his form is dropping, and he has simply made too many mistakes in recent games to justify a spot ahead of David de Gea, who has improved a great deal since first arriving in England. The Spaniard is capable of some great reflex saves and is now a calming presence at the back for United, and looks set to fulfill the tremendous potential that Sir Alex Ferguson saw in him when he signed him for £17.8m.
Pablo Zabaleta – It's a very close call between Zabaleta and United's Rafael for the right-back slot, but the Argentine just edges it, as a more experienced and finely-tuned defender. Both are great talents going forward and probably make up the top two in the Premier League in that position, so it's hard to leave either of them out of this lineup.
Vincent Kompany – A great defender, great captain and great role model, Vincent Kompany is an easy choice for this Manchester XI. The Belgian was a crucial part of City's title triumph in 2011/12, and they badly missed him as he sat out parts of last season through injury. He has also struggled for fitness at the start of this campaign but could be back in time for this crucial match. The 27-year-old also scored a famous winner in this fixture two seasons ago to really rattle United as their end-of-season collapse saw City come back and win the league in thrilling fashion.
Rio Ferdinand – One of the best centre-backs seen in this country for a long time, Rio Ferdinand is still going strong for Manchester United as he approaches his 35th birthday. He just edges the excellent Nemanja Vidic for a place in this side as he boasts the superior fitness record of recent times, which has meant his defensive partner has not quite reached the heights of a few years ago.
Patrice Evra – Although Evra is perhaps past his best, he arguably remains a more accomplished player than Gael Clichy, who offers little going forward and is prone to silly errors at the back. Aleksandar Kolarov is also a decent player but a little inconsistent, and seemingly behind Clichy in the pecking order these days anyway. On his day, Evra is still a key player for United and a proven winner, with the potential still to be more influential than either of City's players in this position.