It's one thing to come up with your own nickname – it's another if that nickname is steeped in arrogance.
Chelsea manager José Mourinho, a.k.a. "The Special One," is undoubtedly the proprietor of a sizeable ego, but perhaps he has enough credit to place him in the sparse ranks of those who have earned their pretension.
Claiming titles in four different countries, with a couple of Champions League winner's medals thrown in for good measure, his record speaks for itself. Love him or hate him, Mourinho's career is gilded with victories.
Since Strongbow's Earn It video has brought historical sporting triumphs back into the spotlight, here's a round-up of the challenges Mourinho has overcome in his career.
Having been driven out of his first top job at Benfica by boardroom politics, a young Mourinho had an impressive single term with União de Leiria. Porto wasted little time in snapping him up midway through the 2000 season.
He delivered on his promise to guide them to the title in his first full season, claiming a domestic and European cup double along the way. Still in its early stages, his career had its first real high.
Image via [http://commons.wikimedia.org/wiki/File:GlobeSoccer_Awards_2012_-_Jose_Mourinho.jpg]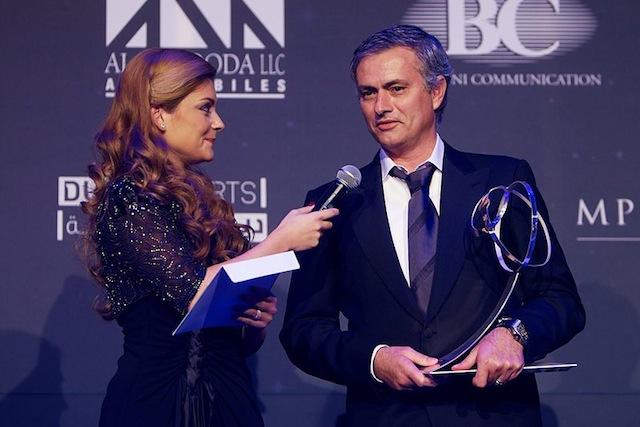 Image via
After Chelsea pounced on the formidable Portuguese, he famously declared himself "The Special One" at his first big press conference, cementing his messianic narrative, for better or worse. The next few years saw him establish a strong core of ever-presents who are mostly still at the club, leading to Chelsea's first league title since 1955.
They retained the trophy the following year. Despite European success eluding him, he had already etched his name into the Chelsea legendarium.
Soon after, his relationship with Abramovich soured and he left Chelsea. But with such an impressive CV, it wasn't long before one of European football's giants offered him a new home.
Inter Milan unveiled a fluent Italian-speaking Mourinho in 2008, who soon won the league by 10 points over local rivals AC Milan. Nonetheless, his failure to win the Champions League meant the jury was still out as he entered his second term.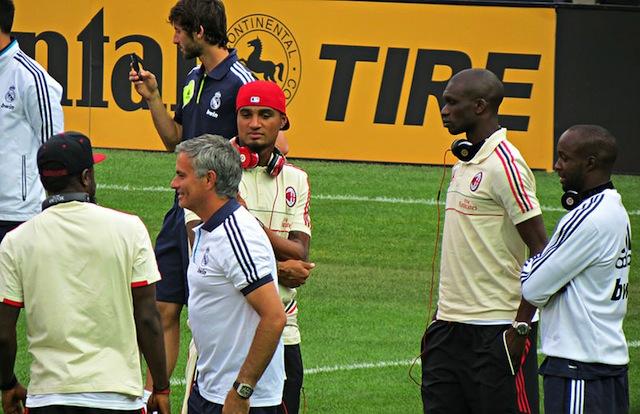 Image via
The seemingly irresistible Barcelona stood in his way, but Mourinho bolstered his squad with powerful attacking talent in the shape of Samuel Eto'o, Wesley Sneijder and Diego Milito. A physically imposing side out-muscled the Catalans for a place in the 2011 Champions League final, where they beat Bayern Munich 2-0. Mourinho then became the first manager to win the Italian treble – another huge career high.
His next staging post was Real Madrid, who broke the bank to buy him out of his contract at Inter. Once again, his task was to break the Barcelona hegemony, but this time it was in for domestic honours. The Special One did not disappoint, and triumphed in the Copa del Rey final. The next season, Real Madrid won the Liga for the first time in four years.
It's only against a background of bitter drama that the true face of a sporting legend can find itself illuminated – for Mourinho that came in the form of a fierce Iberian rivalry and hostility from his own fans after alienating goalkeeper Iker Casillas. Yet despite detractors, and despite Barcelona's edge over him in Europe, Mourinho still managed to be a winner.
The Special One can stand up and earn it in the face of great challenge. Can you? To find out, watch all the Strongbow videos at the Strongbow YouTube channel
Cover Image via