Messi will return to Argentina on Dec 1 to recuperate from his latest hamstring injury. 
The brother of FC Barcelona superstar Lionel Messi is currently embarking on a one-man campaign to ensure the Argentinian retains his Fifa Ballon d'Or crown next year, according to reports in the Daily Mail.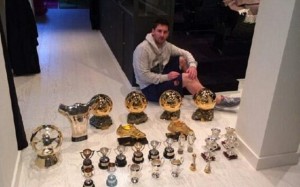 The playmaker has already been crowned the best player in the world on a record-breaking four occasion in the past, however, for the first time in ages there is actually now some doubt as to whether Messi will win the prestigious individual award again when the winner is announced in January.
The likes of Real Madrid forward Cristiano Ronaldo, Bayern Munich wide man Franck Ribery and Paris Saint-German front man Zlatan Ibrahimovic are all reportedly ahead of the Argentina international in the race for the Ballon d'Or at present, with voting set to close on Friday.
Video: Lionel Messi hits the basketball court and sinks a basket with his head
However Messi's brother, Matias, has now taken it upon himself to promote the achievements of his 26-year-old sibling by tweeting a picture of Leo at home in Barcelona with all of the individual trophies the forward has won during the past four years.
And as if to empasise his point, Matias Messi then also tweeted another picture comparing just how many team honours Messi has collected in that four-year period alongside a picture of his great rival from the Santiago Bernabeu with the silverware the Portuguese has won in that time.