You are the boss!
For the first time ever you will given complete control of your Fantasy Premier League with FANXT Fantasy Football, the new fantasy football website that lets you take teams all the way to Premier League glory in a realm that suits you.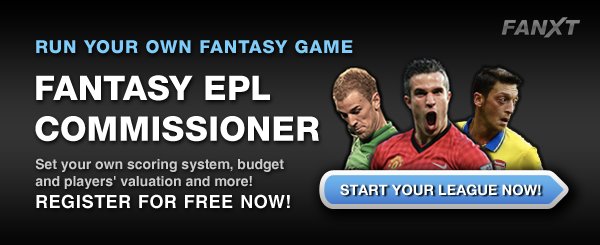 Users can choose to have either the default settings or use the many tools and options available in order to tweak the fantasy league to their own whim and desire. You will be given complete control of the whole league with the Premier League Commissioner where you can customise everything about your fantasy epl:
– BUDGET & VALUATION
You determine the maximum budget for each team, and the valuation for each player.
– TEAM MANAGEMENT
Limit the number of players from a club, and transfers allowed for each game week.
– ALLOCATE POINTS
Set the points for goal scored, clean sheet, saves & more with the highly customisable scoring system.
– CONNECT
Talk to your fantasy managers on the message board, and send notifications about changes in the league.
– DESIGN THE LEAGUE
Choose when to start of your fantasy league, as well as the maximum number of teams that enter your league.
– BE THE BOSS
Invite, add, edit or delete members, and monitor their progress in your game.
You cannot do this in every fantasy football league, but here on FANXT, you can!
You and your friends can keep up with the competition via the built in message board where you will also be able to communicate with fellow challengers in your network, so it will be up to you if you decide to claim your bragging rights after an important victory or stay humble and encourage them for next time.
You will never miss a game thanks to the notification system to alert you of an upcoming fixture, and of course you will be given full access to the entire library of stats and standings concerning your game.
It's high time that fantasy football took the next step and gave control to the fans and this is the future of fantasy football, nowhere else will give you as much control or freedom to create your own game world than FANXT. It's a must-try for all fantasy football managers this season. Or if you prefer the typical Fantasy Premier League, they to have a standard fantasy EPL game,http://fantasyepl.fanxt.com.