Messi back in the headlines with superb cameo performance…
Lionel Messi made his long awaited return from injury in the Copa del Rey last night against Getafe, and scored twice in a brilliant thirty minute period, as his side cantered to an easy 4-0 victory.
Messi is on a three man shortlist for the Ballon D'or, set to be announced on January 13.
Although Messi has won the Ballon D'or for the past four years, he faces strong competition from world-class wing duo Cristiano Ronaldo and Franck Ribery.
Messi and Ribery both won a number of trophies in 2013, with the latter picking up a brilliant treble with Bayern Munich. Although Messi won a La Liga title in Spain, his individual goalscoring haul has not hit the heights that Ronaldo's has – shown by this graphic: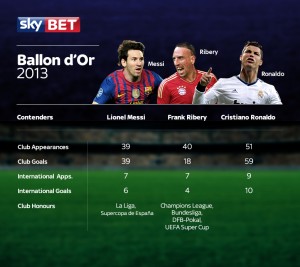 Image courtesy of www.skybet.com/football.
Ronaldo won the Ballon D'or back in 2008, but has missed out to his fantastic Argentine rival Messi ever since. Ribery has never before been in contention, but is an integral part of a Bayern team that's rated as a the best on the planet.
As a result of his blistering calendar year though, Ronaldo has been installed as the 1/7 favourite, with Messi & Ribery given much longer odds.
You can get the latest, and best Ballon D'or odds here: http://www.skybet.com/football/player-specials/event/14771817