Emirates Stadium side look to make the most of massive Puma kit deal.
Check in to Southampton FC vs Arsenal
Arsenal boss Arsene Wenger will be handed a massive £100m transfer war-chest and the North London club have set their sights on AS Monaco goal machine Radamel Falcao according to the Daily Star.
Read more Arsenal transfer news.
The North London club have sewn up a record breaking £150m kit sponsorship deal with Puma and it appears that this has helped boost the money available to Wenger as he looks to use these transfer funds to strengthen his Emirates Stadium squad.
Having smashed the club's transfer record to land £42.5m German Mesut Ozil it should perhaps not be a huge surprise that the Gunners would be ready to once again splash the cash though a move for Colombian Falcao does seem a little far fetched.
The 27 year old is a figurehead for Puma so that in part may explain the link between the club and the former FC Porto and Atletico Madrid man, and there is no doubting that the club's attack would be one area Wenger would look to improve but a move for Falcao doesn't seem all the plausible.
Arsenal still adopt something of a wage ceiling and their top earners are dwarfed by star players at Premier League rivals Chelsea, Man City and Man United and any offer to land Falcao would have to take into account the fact that the powerful forward is perhaps one of the best paid players in world football, and of course playing in the principality he also has no tax concerns.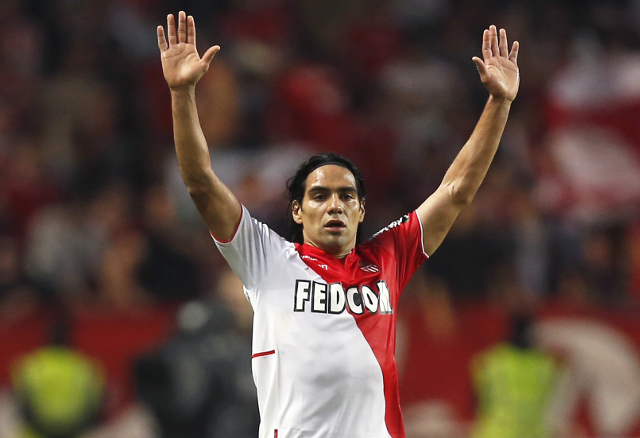 Therefore not only would a bid for the player have to be in excess of the £51m AS Monaco invested in the player last summer, in all likelihood the striker would also demand a wage over £200k a week to have any hope of securing his services.
Arsene Wenger could certainly do with fresh striking options as Olivier Giroud is still heavily relied upon with the likes of Nicklas Bendtner, Theo Walcott and Lukas Podolski manfully looking to shoulder the goal-scoring burden.
SEE ALSO: PES 2014 best players: the 20 highest ranked players on Pro Evolution Soccer 2014.