Emirates Stadium favourite is simply not good enough.
Check in to Arsenal vs Liverpool
If there is anything Arsenal can take from their recent encounters with a resurgent Liverpool and a desperately poor Man United side it's that without doubt their first choice striking weapon, Olivier Giroud, is an average footballer who arguably isn't the man to lead the Gunners attack.
Read more Arsenal team news.
The French international is clearly a fan favourite and this is chiefly because the powerful front-man doesn't quit.
The 27 year old is a tireless worker who gives his all throughout every 90 minute shift but for all his stamina and his hard work ethic, he really isn't a player who will score regularly enough to warrant being Arsenal's first choice starter.
Clearly a striker shouldn't only be judged on his goal-scoring prowess but that is predominantly his role in the team and on that basis Giroud has been found wanting.
The former Montpellier man ran his socks off against Man United last night but when presented with a relatively easy chance he failed to make contact and a good cross into the box was wasted.
Giroud plundered 11 goals in 34 Premier League appearances in his debut season at the North London club but it seemed he was getting back 'into gear' during the current campaign but his recent displays have made it abundantly clear that Arsene Wenger needed to invest in a fresh striking option in the January transfer window.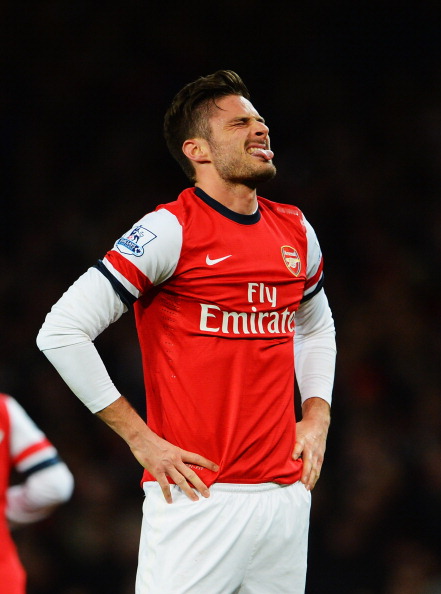 Olivier Giroud will never be a prolific goal-scorer, his strength comes in acting as a battering ram, attempting to make things happen through brute force. He attempts to get involved in neat triangle passing in and around the box but to this end he is not much more effective than Nicklas Bendtner.
With the exception of Chelsea, all other sides fighting in or around the top six have players who can be fairly described as prolific, hell even Tottenham have seen former Gunners man Emmanuel Adebayor get into a goal glut.
Arsene Wenger may have thought that his creative midfielders could help shoulder the goal-scoring burden, much as the likes of Eden Hazard and Oscar have done at Chelsea, but with Aaron Ramsey out injured this has not proven the case, bar the occasional brace from Alex Oxlade-Chamberlain and the odd clinical strike from Santi Cazorla.
In many ways Wenger is to blame for some of Giroud's failings. The lack of activity in the transfer market has heaped more responsibility on the Arsenal forward's broad shoulders and this in turn could well be a factor in his recent below par performances.
Some would argue that a striker signing may have led Giroud to feel his place was under threat, that his importance to the team would have been questioned, however I'd argue that bringing in some very able support would have freed the Arsenal man from his shackles a little bit.
The pressure is certainly on Giroud and in recent weeks he's been found wanting.
Giroud is never going to have a killer instinct in front of goal and in many ways having a big strong forward leading the Arsenal line doesn't really fit Wenger's style and footballing ethos. He's very much a square peg that has been hammered into a round hole, this again down to the manager's stubborn refusal to sign a 'round peg' in January or indeed last summer.
Clearly Wenger's cause has not been helped by the injury and form issues suffered by Theo Walcott and Lukas Podolski, two players of obvious quality, but the fact that the Frenchman was left having to usher Nicklas Bendtner back into the fold must surely have led to alarm bells ringing in the manager's head?
If Arsenal do fail to end their silverware drought this season then it will be down mainly to Wenger's insistence on not signing a striker which in turn has laid bare all of Giroud's obvious shortcomings.
Giroud, nice guy but an average striker.
Check out the most surprising players who finished up unsold at the IPL 2014 Auction.