Emirates Stadium return on the cards for Old Trafford ace.
Check in to Arsenal vs Liverpool
Arsenal boss Arsene Wenger is closing in on a shock move to re-sign striker Robin Van Persie with the North London club having already entered into negotiations with Man United over a potential summer switch.
CaughtOffside understands that Dutch international Van Persie is not enjoying life under boss David Moyes and the Scot is open to selling the 30 year old, a move that may become all the more likely if the Old Trafford side fail to secure a top four finish.
Van Persie left Arsenal to join Man United in a hugely contentious transfer back in August 2012 and the in-form forward netted 30 goals in all competitions in his debut campaign but has suffered with injuries this season and has apparently been unsettled at the Premier League side ever since Sir Alex Ferguson elected to retire last summer.
Sir Alex Ferguson's presence at the club was a key reason behind Van Persie's decision to make the move from Arsenal to their arch rivals, a move that has certainly led to a great deal of anger from a significant portion of the Emirates Stadium faithful.
Moyes is very keen to tie down Wayne Rooney to a new contract, with his current deal having just over a year to run, and the former Everton manager is keen to freshen up his squad and is ready to sacrifice Van Persie this summer.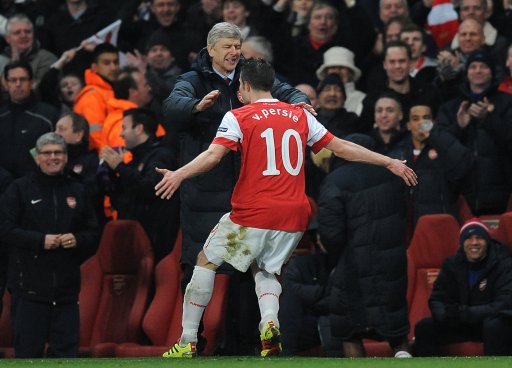 Man United's board are set to hand Moyes a massive transfer war-chest, said to be in the region of £150m-£200m, with the emphasis being to the long term direction of the club.
Van Persie's age may be a factor in Man United's willingness to sell, as are his ongoing fitness concerns.
Arsenal are ready to offer £22m for a player they sold for £24m 18 months ago, Wenger will look to offer Van Persie a three year contract, which would see the French boss scrap his policy or only offering one year deals to senior players to help prove to the striker just how important his return would be to the club.
Van Persie will only consider a return to his former club if Arsene Wenger puts pen to paper on a new deal and a move to re-sign the former Feyenoord man will be a statement of intent that may prove all the more necessary if Arsenal fail to secure major silverware this season.
Prior to his move to Man United Van Persie netted 132 goals in 271 appearances.
As well as a move to sign Van Persie being a statement of intent it's a move that would greatly aid Wenger's push to resolve something of a problem area.
Wenger has relied heavily on French forward Olivier Giroud, who has looked exhausted in recent weeks, with the Arsenal boss not being able to depend on either Lukas Podolski and Theo Walcott with both players being out for large portions of the current campaign.
SEE ALSO: PES 2014 best players: the 20 highest ranked players on Pro Evolution Soccer 2014.