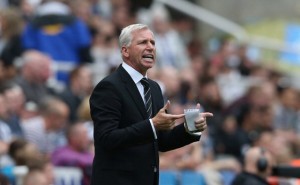 Newcastle United manager Alan Pardew has just one match in which to save his job at St James' Park, while the recent sale of key playmaker Yohan Cabaye to Ligue 1 champions Paris Saint-Germain has also caused deep unrest within the Magpies squad.
Full story: The Sunday Mirror
Tottenham Hotspur director of football Franco Baldini is under increasing pressure from the board at White Hart Lane after the failures in front of goal this season of the north London club's record summer signing Erik Lamela.
Full story: The Sunday Mirror
Bayern Munich captain Philip Lahm has claimed that holding midfielder Toni Kroos would be taking a step down if he decides to swap the Allianz Arena for Old Trafford next season.
Full story: The Sunday Express
Manchester United wide man Wilfried Zaha is now in contention to go to this summer's World Cup finals in Brazil with England after shining whilst out on loan with Cardiff City of late.
Full story: The Sunday Telegraph
Millwall manager Ian Holloway says that Liverpool head coach Brendan Rodgers deserves to win the Premier League title this season as the Northern Irishman has given so many young English players a chance in the first team.
Full story: The Sunday Mirror
Manchester City right-back Pablo Zabaleta wants his compatriot Lionel Messi to join him at Eastlands, claiming that the FC Barcelona superstar has been asking him questions about life in Manchester.
Full story: The Sunday Mirror