Emirates Stadium star has become the subject of unfair criticism and it's time to set the record straight.
Check in to Stoke City vs Arsenal
When Arsenal smashed their club record transfer fee to sign Mesut Ozil the club's fan-base were overjoyed, the press were full of praise and the pundits lavished the German with the praise he rightly deserves.
A few short months later and the playmaker has found himself in the eye of the storm, the scapegoat for the North London club's recent run of average form to such an extent that even a significant portion of Arsenal fan's have turned on the former Real Madrid man.
One has to wonder how this has come to pass.
Arsene Wenger opted to 'rest' the 25 year old for Arsenal's fixture with Sunderland a move that could be seen as either a punishment for supposed to lacklustre displays or a calculated attempt to take Ozil out of the firing line.
It's a move that indicates a certain weakness from the French manager and prevents Ozil from having the chance to shine against inferior opposition, a run-out that could have helped the flair player make an immediate chance to make amends for THAT penalty miss against Bayern Munich.
It seems every member of the media throng is taking it in turns to deride Mesut Ozil, to claim he has been an expensive mistake, a luxury player who doesn't offer enough of a rounded presence in the Arsenal starting eleven, all of this seems hugely unfair.
It is worth noting that only Steven Gerrard and Wayne Rooney have provided more assists than Mesut Ozil in Premier League action this term.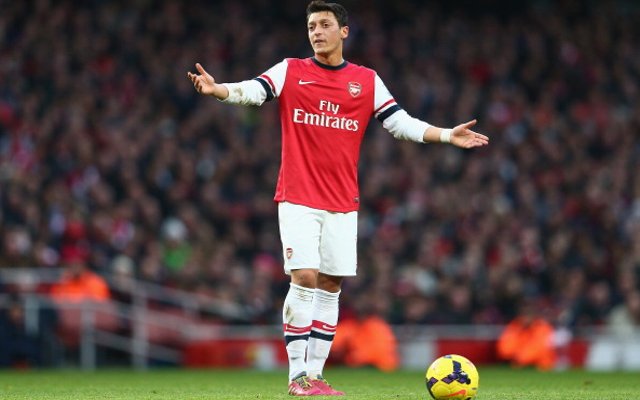 There will be some who claim that Ozil doesn't track back enough, is lazy and prone to 'vanishing' from the action. All these points, to an extent, are valid but would be as valid if directed at just about every 'creative' midfielder in world football.
Ozil wasn't purchased to put in a sliding tackle when rushing back to cover an opposition winger, though clearly being able to do so once in a while is by no means an impediment. He was brought in to act as an ideal link between midfield and attack, to give Arsenal an edge in the final third and to provide a real goal threat to offer support to those doing the damage in the final third.
The purchasing of Ozil was a statement of intent from a club that desperately needed to appease a fan-base who had deemed the club's inability to end a silverware drought as being down chiefly to their unwillingness to 'splash the cash' but there is a danger that the importance placed on the acquisition has led to undue pressure on the German, which has in turn led to some average displays.
If Arsenal do fail to end their lengthy run without a trophy it won't be down to Ozil but instead due to Arsene Wenger's inability, or unwillingness, to sign one or two meaningful players in January with the lack of effective striking support more than likely to derail attempts to re-capture the Premier League title this term.
SEE ALSO: PES 2014 best players: the 20 highest ranked players on Pro Evolution Soccer 2014.