Well, you can't blame a man for trying…
Following Liverpool owner JW Henry's admission that Luis Suarez did have a £40m release clause, an Arsenal fan has started a petition hoping the FA will force the Reds do the following:
-Release Luis Suarez to Arsenal free of charge.
-Apologise to Arsenal FC.
-Pay Arsenal a £4.5m compensation.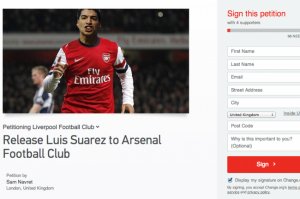 Arsenal met Suarez's release clause last summer, but Liverpool simply refused to do business, with JW Henry claiming that contracts in football "don't mean a lot in England", BBC Sport reported.
Despite the obvious tongue in cheek nature of the report, #FreeSuarez has begun to trend on Twitter today, with Liverpool fans taking a particularly dim view of the news…
First the umlauts on the twitter handles,#songforozil and now #freeSuarez , starting to wonder if Arsenal fans should be euthanized, so sad

— Ruairi Orr (@08Ruairi) March 3, 2014
Just got in to see this #FreeSuarez nonsense. I'm not even going to talk about it because it is exactly that, nonsense.

— LFC Since 1892 (@LFC_Since_1892) March 3, 2014
#FreeSuarez from the club that he willingly commited his long term future to.

— #FreeBlameSuarez (@Blame_Suarez) March 3, 2014
From this moment, I'm afraid I can't show any affection towards Arsenal on here ever again. I can't be paired with the likes of #FreeSuarez.

— Gene Oliver (@mantomanmarking) March 3, 2014
What are they smoking over there on that twitter account? @freesuarez1 #FreeSuarez

— TheCoutinhoRole™ (@CallumPierce) March 3, 2014
Arsenal fans seem to going into overdrive by tweeting #FreeSuarez. What exactly does he need freeing from? Answers on a postcard #LFC #AFC

— Richard Buxton (@Richard_Buxton_) March 3, 2014
Arsenal' fans trophy desperation level: #freesuarez

— Liverpool Hardline (@LFC_Hardline) March 3, 2014