Roy Hodgson's preference for using the Liverpool star as a winger will see him wasted at the World Cup.
It was no surprise to see Daniel Sturridge make the telling contribution as England laboured to an uninspiring 1-0 friendly win over Denmark at Wembley.
SEE ALSO: The top 10 best Liverpool goals.
The Liverpool striker is not only one of the form players in the Premier League and England squad, but also in Europe; Sturridge boasts 18 Premier League goals in as many starts, plus five assists, and he has only failed to score in four matches out of twenty this season. In Europe's top five leagues, only Diego Costa, Zlatan Ibrahimovic, Cristiano Ronaldo and club-mate Luis Suarez have outscored Sturridge and, given the 24-year-old's remarkable consistency, it's fair to assume he would be higher on the list had he not missed eight league games through injury.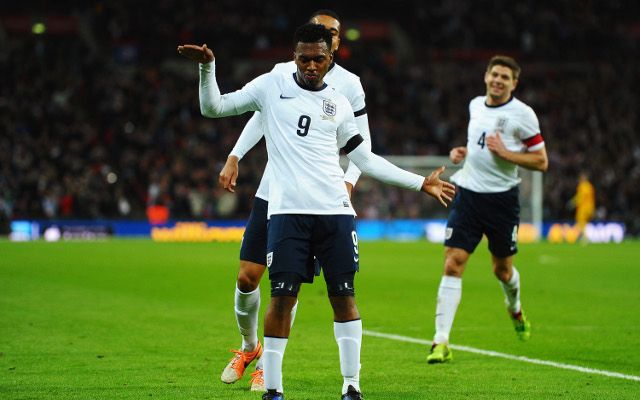 Liverpool boss Brendan Rodgers deserves enormous credit for his faith in Sturridge. On the occasions when the Northern Irishman has played with one up top, Sturridge has been used through the middle with Suarez shifted wide or into the hole. The Uruguayan is a better player and a bigger star, but Rodgers knows Sturridge will score more often than not.
Rodgers' faith is all the more significant because Sturridge arrived at Anfield having failed to convince a trio of Chelsea bosses he was worthy of playing through the middle. Carlo Ancelotti, Andre Villas-Boas and Roberto Di Matteo all used the disgruntled youngster from the wing, while Rafa Benitez lacked the influence or faith to block his move to Anfield in January 2013.
Had the Chelsea bosses considered Sturridge's only sustained spell as a central striker in the top flight, a 12-game loan spell at Bolton for the second half of the 2010/11 season, they would have noted the significant contribution his eight goals in 12 league appearances made in keeping Wanderers in the division.
His transformation on Merseyside makes it all the more extraordinary that England boss Roy Hodgson has opted to use Sturridge from the wing. Against Denmark, the Premier League's second top scorer started on the left, with Wayne Rooney through the middle and club-mate Raheem Sterling impressing on the right.
After the disappointing Rooney was withdrawn on the hour, Hodgson kept Sturridge wide and used Danny Welbeck centrally – a particularly odd decision given Welbeck typically plays from the left, and appears to enjoy it, for Manchester United.
Speaking after the Denmark win, Sturridge nobly dismissed the importance of his position, stressing the team comes first. As a good professional, he will continue to toe the party line, even if Hodgson opts to use him at right back, but Sturridge is unlikely to be overjoyed by his return to the flanks; in his final season at Chelsea, it was an open secret he was unhappy with his position.
Rooney remains England's talisman and just as Sturridge is wasted out wide, so would be the United forward be. It's widely acknowledged, however, that Rooney is best deployed in the hole, behind a central striker, as he is at club level. The 28-year-old typically averages 15 or 16 league goals per season, suggesting he is less of a natural goal-scorer than Sturridge, but his tireless industry make him more useful defensively than the Liverpool man.
If Hodgson wants to get the best out of England's two forwards, he should follow Rodgers by shifting Rooney out of the lead role. It wouldn't fit the system the Three Lions coach is currently playing but at international level, it makes sense to adapt the formation to suit the best players, rather than squeezing round pegs into square holes.
The prospect of Sturridge leading the line, supported by the selfless Rooney – with, perhaps, Adam Lallana and Raheem Sterling in wide areas – is a genuinely attractive prospect and could see England inflict some damage on more fancied opponents at this summer's World Cup.
Supporters of Hodgson will point out that Sturridge still scored against Denmark, and had a fine first half chance saved by Kasper Schmeichel, but the goal came late on, when Sturridge's discipline had waned and he was roaming from the flank in search of the ball.
This behaviour raises another problem for the England boss and suggests that if Sturridge remains on the wing, the team might struggle to keep their shape as the Liverpool man goes in search of goals.
As Hodgson will no doubt know, Suarez's national team boss Oscar Tabarez faces a similar dilemma with England's group stage opponents Uruguay. With both the Liverpool star and Edinson Cavani at his disposal, Tabarez has opted to use Suarez as a lone striker with Cavani behind.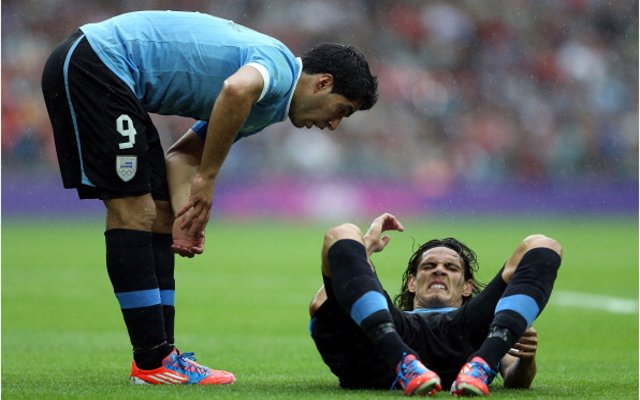 The PSG forward has become, according to the BBC's Mr South America Phil Vickery, a 'box-to-box' centre forward, whose tireless work rate benefits the whole team. Vickery's description of Cavani sounds a good fit for Rooney's attributes and given Uruguay's recent success as underdogs, perhaps Hodgson would do well to replicate Tabarez's model.
Hodgson may have learned little from the insipid win over Denmark but hopefully the 66-year-old will have been reminded that Sturridge is a goal-scorer, not a winger. It's time Roy was brave and followed Rodgers' lead.