Wolves send fan upside letter.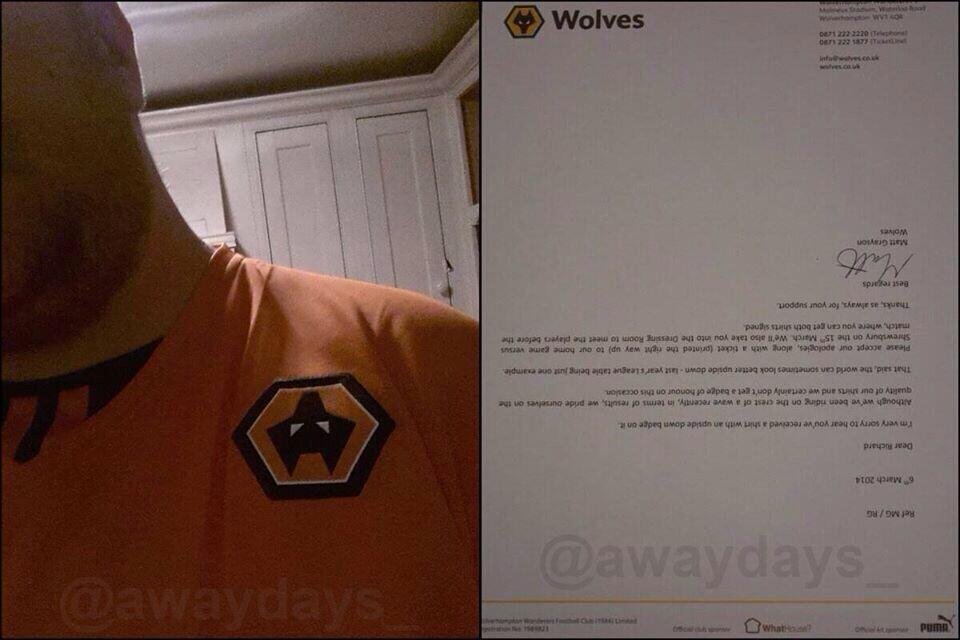 Wolves have responded brilliantly to fan Richard Gough who was sent a replica shirt with the club logo upside down. Mr Gough posted a picture of the erroneous shirt on social media and the club responded with a letter of apology, which was also upside down!
SEE ALSO: Top 10 Richest Clubs In World Football
"When I first got the shirt I didn't notice it because I had got one for my daughter so put hers on her first," Mr Gough told the Express and Star.
"I took mine off and then tried it on a bit later, and I was about to send a snapchat to one of my mates.
"I noticed it was upside down but thought it was because I was taking a selfie in a mirror but when I looked at it, it was looking back at me."
Wolves tweeted Mr Gough to show him the humorous letter they were about to send out to him.
He said: "I haven't actually had it sent out to me yet, but when I saw it, I did find it quite funny.
"I've got auto-rotate on my phone so when I looked at the picture it turned the wrong way again, so I turned my phone back and it went upside again.
"It was pretty funny, I had to turn it off to read it."
Written by Wolves' Head of Communications Matt Grayson, the letter reads: "Although we've been riding on the crest of a wave recently, in terms of results, we pride ourselves on the quality of our shirts and we certainly don't get a badge of honour on this occasion."
The letter offers Gough a free ticket to the clash against Shrewsbury, and also the chance to meet the players to get the infamous shirt signed!
"The world can sometimes look better upside down – least year's league table being one example," the letter finished.