Lack of 'structure' at White Hart Lane prompted Arsenal switch, says Campbell.
Sol Campbell has revealed a lack of 'structure' at White Hart Lane was a key factor in his decision to join Arsenal from bitter rivals Tottenham.
Read more Arsenal FC news.

The former England centre half is reviled by Spurs fans for moving across North London on a free transfer in 2001, having come through the ranks at Spurs and made more than 250 league appearances for the club.
Campbell went on to win two Premier League titles and three FA Cups with the Gunners but has never been forgiven by the Tottenham faithful.
The 39-year-old says he understands the anger directing at him but believes it is fuelled by his success at Arsenal.
"Of course they're going to have some kind of anger towards me," Campbell told the Evening Standard.
"I totally understand where they're coming from and I accept it. It is quite simple really. It's just because I went from Tottenham to Arsenal and also I was successful.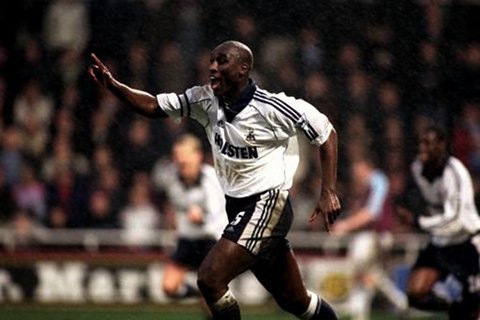 "But I'm not a villain. I did not go to Manchester United when they came for me when I was 21 or 22. I just didn't feel it was the right time for me. And everyone seems to forget that, when I was a youngster, there were a couple of years when I kept Tottenham up."
Campbell rejected the claim that he deliberately ran down his contract in order to take more money at Arsenal, claiming that Spurs messed around during contract negotiations.
"Yeah, I've been lucky enough to be paid extremely well. But I offered Tottenham a four-year contract with a one-year break if we didn't get to where I think they should have been. They did not accept that. They were offering me the same money but 'chopped up' so I had to get to about five different levels [of performance on the field] to get the same money. I said, 'Well, if you don't buy the players, then how am I going to get to that level?' Everyone else was offering me straight money."
Far from money, it was the lack of 'structure' at White Hart Lane that persuaded Campbell to move to the red half of North London.
"At Tottenham, I was just playing on talent all the time. Talent is great but you have to structure it and there was no structure. Arsene Wenger had a structure with everything he did and my talent just slotted in with the structure. Talent with no structure is just like a boat with no rudder. It doesn't work."
During Campbell's time at Arsenal and later Portsmouth and Newcastle, Spurs fans held up signs reading 'Judas' and booed his every touch. Campbell rejected any notion of a reconciliation with the club in the future.
"You're having a laugh," he said, when asked about the prospect of a truce. "I don't think I'm welcome there. All my pictures have been taken down. They invited me once for an anniversary thing but I never went."
Three months ago Campbell did shake hands with Tottenham chairman Daniel Levy at a game. "It was pleasant. But they've moved on and I've moved on."