Old Trafford boss swiftly undoing 26 years of great work by former manager Sir Alex Ferguson.
Check in to West Ham United vs Manchester United
There is little doubt that David Moyes's tenure in charge of Man United has been nothing short of an unmitigated disaster and one has to wonder just how the Scot is still at the Old Trafford helm.
Whilst it's entirely laudable that the club's faithful support showed Moyes such excellent backing during Man United's humiliating 3-0 defeat to rivals Liverpool one has to ask just what the former Everton boss has done to earn such respect from the fans of a side that is slowly but surely being made a mockery of.
Some argue that replacing Sir Alex Ferguson was always going to be a thankless task and that's perhaps a fair point but no one could have imagined life would be quite this bad just nine months into the reign of a manager who simply doesn't have the qualifications or ability to lead a side that is rightly thought of as one of the biggest football clubs on the planet.
One only has to view David Moyes's demeanour on the bench or indeed in post match press conferences and interviews to see that he simply hasn't got a clue.
More often than not the 50 year old looks like a rabbit caught in the headlights, unable or unwilling to make tactical changes that even the untrained eye can see are necessary.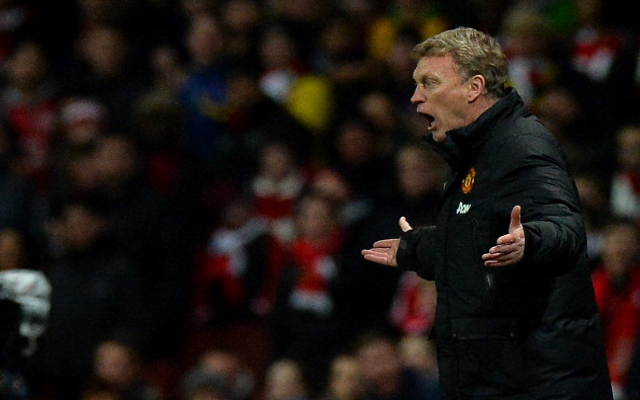 Reports that Moyes has lost the dressing room and that his ability to lead Man United out of their slump has been questioned by several senior players must be setting bells ringing in the Old Trafford board-room.
Whilst some would argue that Man United do not want to make knee-jerk reactions they must surely also not want to see the club's dented reputation suffer yet more damage, as it surely will every single day David Moyes is still in charge.
Yes Moyes was handed a lengthy contract and yes the cost of canceling the deal will cost the Glazers a small fortune the cost of keeping the manager, financially as well as to their reputation on the footballing world stage, will be far far more costly.
Moyes has taken a squad that won the Premier League in 2012/13 and added Belgian midfielder Marouane Fellaini in the summer and signed Juan Mata from Chelsea in January. However he has somehow contrived to not only fail to mount any semblance of a Premier League title push but is also likely to see Man United fail to secure a top four for the first time in the Premier League era.
Failure to secure a Champions League berth will have the knock on effect on the level of talents Man United can lure this summer and may leave some of the club's top performers considering their options, leading to something of a vicious circle that is not helped by the fact that prospective new signings will have little or no desire to play for a manager with little in the way of credentials.
Such failures would lead most sides to swing the axe and whilst there is a certain amount of respect to be garnered by looking to give a manager time there is simply no reason why David Moyes deserves such leeway.
Moyes is managing to undo all the superb work done by Sir Alex Ferguson during his 27 year reign and is doing so with such speed that there is a very real danger that the club could spend years attempting to recover.
Man United have already suffered nine Premier League defeats in 2013/14 and one more loss would set a new club record in the modern era. Defeats to Swansea City and Sunderland in the FA and Capital One Cups were meek and on Wednesday night Moyes faces arguably the latest in a long line of make or break of encounters.
Having suffered a stale 2-0 defeat in Athens Man United will host Olympiakos hoping to overcome the first leg deficit though no one would bet on such an eventuality occurring.
Perhaps none of this is entirely unexpected. David Moyes received plenty of plaudits for his sterling work at Everton, where under a restrictive budget he managed to work wonders.
However his complete lack of tangible success in the form of silverware secured or indeed managerial experience at Champions League level made his appointment something of a gamble, a gamble that will not pay off however long Man United choose to back Moyes.
Ahead of Man United's fixture with Liverpool David Moyes stated that his side were not favourites for the clash, a statement one could never for one second imagine predecessor Sir Alex Ferguson uttering.
Even if such a statement were indeed accurate making such a defeatist claim is yet more evidence that Moyes is so out of his depth that he is pretty much drowning.
SEE ALSO: PES 2014 best players: the 20 highest ranked players on Pro Evolution Soccer 2014.