United fans still rallying for managerial change.
A section of Manchester United fans are planning to show up hapless boss David Moyes this weekend by flying a 'Moyes Out' banner over Old Trafford during their game against Aston Villa.
Read More Manchester United FC News
And the fans behind the protest have released a press statement highlighting why exactly they are planning to go to such lengths to embarrass the manager, rather than simply get behind the team for the final part of the season.
"The decision to fly a plane over Old Trafford bearing the slogan 'Wrong One: Moyes Out' is one borne out of acute frustration," it reads.
"It is frustration at the poor results, lack of fight on the pitch and the unavoidable signs that David Moyes isn't up to the highest standards required to manage Manchester United Football Club.
"A significant proportion of Manchester United fans have had enough and unequivocally want David Moyes sacked.
"Further frustration has been created from the inaccurate perception that all Manchester United fans are behind David Moyes.
The full statement from the forum on Red Issue can be read below.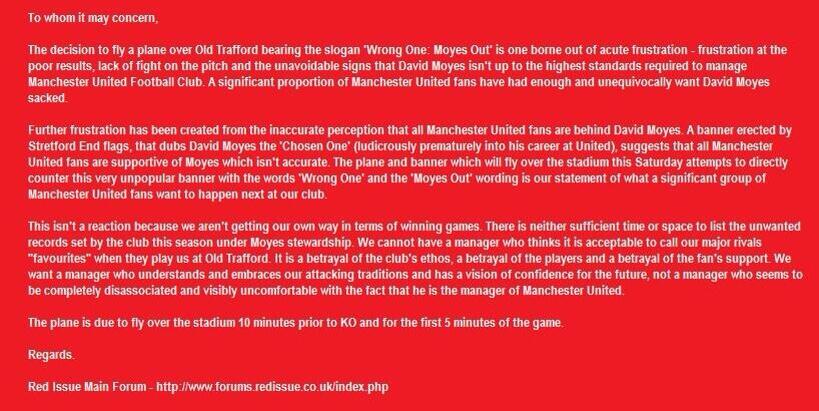 Check out the top 10 best Manchester United players of all time.
See who makes the top 10 best Manchester United signings.
Watch the top 10 best Manchester United goals.