Time for all Arsenal fans to welcome a life without Arsene Wenger.
Check in to Arsenal vs West Ham United
No one can deny all the good Arsene Wenger has done for Arsenal football club but equally no one, one would have surmised, can also deny that he has presided over an extended period of failure that simply must not be allowed to continue.
There will be some following today's shambolic 3-0 defeat at Arsenal who will be demanding #WengerOut for the umpteenth time and those who will mindlessly back the French manager in an equally blind fashion.
There are some who have made their minds up long ago as to whether Wenger is the man to continue to lead the Emirates Stadium side but now is perhaps the time to pause for thought and look at things in a calm, composed and logical manner.
If you all emotion from the debate, admittedly next to impossible, and just look at the 'facts on the ground' and it seems fair to say the Arsene Wenger is nearing the end of the road.
Even the securing of an FA Cup triumph, then bringing to an end a eight season silverware drought, will be diminished by the level of opposition left in the competition. Arsenal's route to such success doesn't even require them to defeat a top half of the Premier League which leaves the North London side once again looking to secure that 'other' trophy of a top four finish.
Perhaps such a finish would be considered a decent return for their efforts over the course of those eight lean seasons the fact is that Arsenal were genuine title contenders at the turn of the year and therein lies the deeper problem.
Wenger's side have suffered a horrendous collapse in recent months and whether this is down to the manager's stubbornness and refusal to invest in much needed additions in the January transfer window or the fact that he has simply not been able to command his troops to anything other than complete abject failure when going 'toe to toe' with their direct rivals, the fact remains the same the buck and the blame rests with one man and one man alone.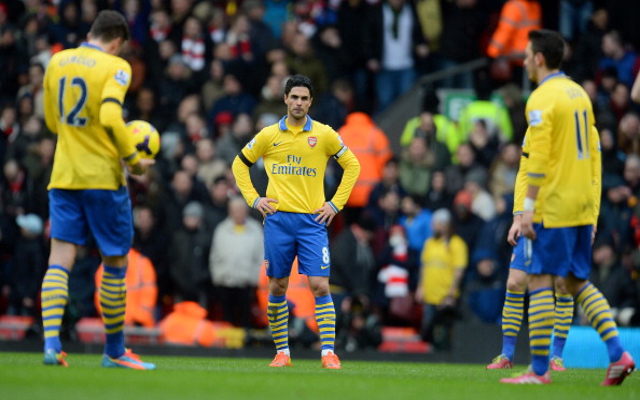 If Arsenal's 5-1 demotion at the hands of Liverpool in early February was the opening act of a play of tragic proportions, then the 6-0 defeat at Chelsea was act two with the defeat at Goodison Park the denouement that has left Gunners fans eliciting various emotions, ranging from anger to frustration all the way to resignation.
A season or two ago Arsenal fans bemoaned the club's insistence in attempting to always score the 'perfect goal', trying to continuously gild the lily whilst sticking to their principal of wildly attractive football. That was a time when the club was seemingly not happy to win a game unless they had played the opposition off the pitch.
This term however it's the sheer lack of ideas when coming up against big opponents in crucial matches that says it all. In the matches when Arsene Wenger needed to marshal his troops and get the win they so badly needed, he failed, time and time again.
Hell, even when they narrowly defeated arch rivals Tottenham last month they were lucky to do so, arguably Tim Sherwood's side deserving a point at the very least.
Wenger will of course always an excuse handy in order to deflect blame from both himself and his charges. Thus far he has claimed that early kick-offs were a problem for the team, as though the opposition they met were somehow in some different time zone an as such weren't unduly flustered.
This weekend he has blamed the loan system for allowing Everton to possess players that couldn't face Premier League title rivals, a moan that would carry more weight had it been uttered on all the other relevant occasions not just when it suited his argument.
He has of course bemoaned injuries the club has suffered, which may or may not be of a level exceeding those of other Premier League sides, but in making such complaints Wenger would then have to concede that he hasn't brought in sufficient additions so as to mitigate such losses.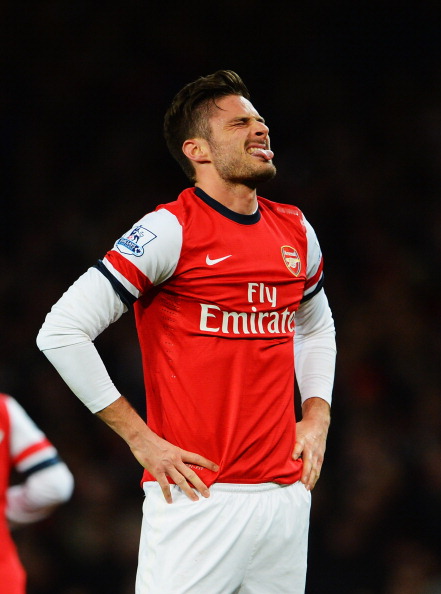 Consider the case of Olivier Giroud as an example.
Even the most ardent Arsenal fan would admit that the big forward has his shortcomings but even when he's been off the pace, exhausted, or indeed just having to cope with the after affects of his infidelity that could well ruin his marriage, he's been used by Arsene Wenger.
This isn't because Wenger believes the French international to be the modern game equivalent of Gerd Muller, oh no. It's because he has no able back-up options. Yes Lukas Podolski's form has been patchy, yes Theo Walcott is injured but these are players the Arsenal manager primarily uses in wide attacking roles anyway, so that's no excuse.
So when Giroud was hauled off after 70 minutes against Everton after a particularly abject display, who replaced him? Was it Loic Remy? Was it Klaas-Jan Huntelaar? Was it Karim Benzema? Oh no.
It was Yaya Sanogo. You know. That 21 year old who has never scored a goal for the club….
Loyalty is a very laudable attribute, it's something we'd all like to think we possess but it is a trait that can be tested. It is something that can 'run out' and there is no reason why it would not have a best before date.
I have no doubt that there are some who retain the feeling of loyalty to Arsene Wenger just for the sake of it. To imply that they are somehow better supporters simply for that very refusal to 'give up' on the manager. That makes little or no sense.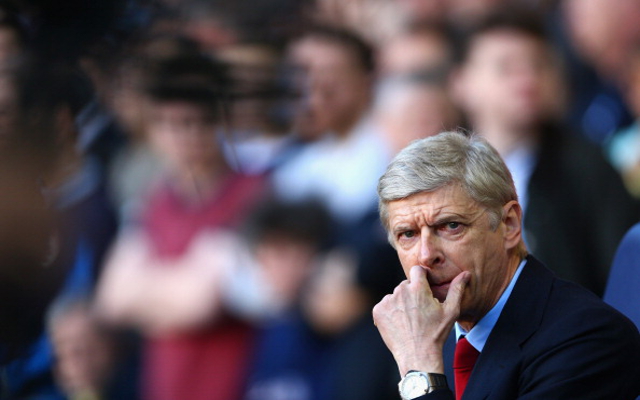 In the same way as Arsene Wenger deserved all the plaudits he received when he arrived at Highbury like a breath of fresh air and revolutionised not only Arsenal but arguably the English game as a whole the 64 year old manager also deserves to feel the wrath of the same supporters for this near decade long period of trophy abstinence.
The timing is right for Wenger to walk and there is one thing most would agree, from either side of the #WengerOut fence, and that is the sense that the Arsenal manager would 'know' when the time was right for the club and he to part ways.
Arsene Wenger's contract of course expires this summer and there is no good reason to offer him another and anyone considering the arguments for and against such an eventuality would have to begrudgingly agree this is the case.
There was a time when the idea of life without Wenger would leave Arsenal fans experiencing horrific nightmares, waking up in cold sweats, that time has long since past.
Like a boxer who's traded punches for too long, looked to recapture past glories whilst refusing to face the painful truth, Arsene Wenger must know it's time to call his a close to his chapter as Arsenal manager before it's more well remembered for its troughs than its peaks.
An FA Cup final success is certainly not a significant enough success to warrant a new contract but it is perhaps enough of a 'high' to bring an end to Wenger's tenure at the Arsenal helm.
SEE ALSO: The Fastest Players on Fifa 14
Find out who are the richest footballers in the Premier League here.