Old Trafford owners to bring an end to Scot's woeful rein as Man United boss.
Check in to Manchester United vs Norwich City
Speculation is rife that Man United are to call time on David Moyes's brief tenure as Old Trafford boss and the back page of the Daily Express states that the Scot will be axed within 24 hours.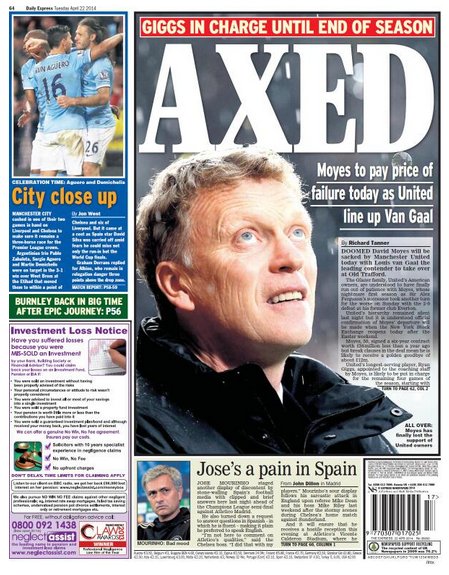 Having suffered an eleventh Premier League defeat of the season away at Everton on Sunday it appears that Man United's owners have finally ran out of patience with Moyes and will bring an end to his rein in charge less than a year into his six year contract.
Ryan Giggs is to replace Moyes until the end of the season when Man United will seek to bring in a long term replacement.
Read more Man United news here!
Man United sit seventh in the Premier League table and will miss out on a Champions League berth for the first time in the competition's history.
Whilst it was always going to prove tough to replace Sir Alex Ferguson the Glazers could not have expected the level of failure that Moyes has presided over since taking over back last July.
The 50 year old may well receive a hefty pay off given the length of contract he was handed but could also find it tough to secure another high profile job after such a hideous spell at arguably the biggest club in world football.
SEE ALSO: The Fastest Players on Fifa 14