The man best known as Lee Nelson gets up close and personal with the Three Lions.
As the England national team prepared to fly to Miami ahead of the 2014 World Cup they were given an unexpected surprise in the shape of comedian Simon Brodkin.
The man best known as Lee Nelson gatecrashed the Three Lions party after turning up dressed in an identical suit to the players and brandishing a passport.
Brodkin managed to mingle with the playing and coaching staff before being spotted – at first by captain and Liverpool star Steven Gerrard.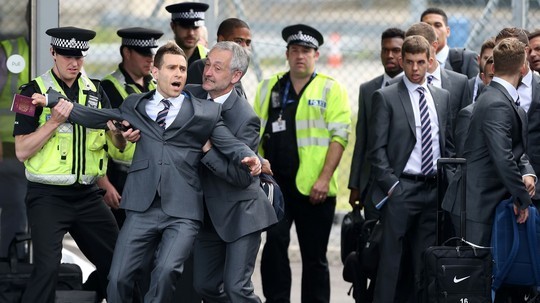 Photo courtesy of ITV.
The comedian – who also performs as mock footballer Jason Bent – was spoken to by a police officer before being taken away from Luton airport.
It's not the first time Brodkin has gotten into trouble for getting too close to a football team, after being slapped with a six-month conditional caution in April 2013.
On that occasion the 36-year-old got onto the pitch at Goodison Park and trained with Manchester City stars in their pre-match warm-up, before their game with Everton.
SEE ALSO: The 50 best players at the 2014 World Cup.