Emirates Stadium side hope to tempt top notch attacker into summer switch.
Check in to Germany vs Portugal
Arsenal boss Arsene Wenger is readying a big bid for Borussia Dortmund forward Marco Reus following growing speculation that Barcelona are also targeting the German international forward.
CaughtOffside understands that the north London side have been tracking the 25 year old for some months and are putting together a bid they hope will tempt the Westfalenstadion side to sell.
Read more Arsenal FC news.
Borussia Dortmund boss Jurgen Klopp has struggled in recent seasons to retain his top performers and this has led his side to fall further behind domestic rivals Bayern Munich, a fact not helped by the club's inability to prevent two of their stars moving to the Allianz Arena.
Mario Gotze opted to join Bayern Munich last summer and Polish striker Robert Lewandowski opted to run down his contract and make the same move on a free transfer, transfers that must leave Reus considering Borussia Dortmund's long term ambitions.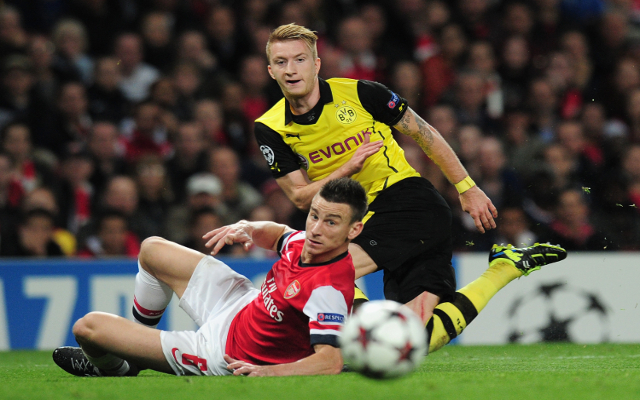 Wenger is looking to bring in a big name forward to help boost his attack as well as looking to make a major statement of intent ahead of the 2014/15 campaign.
The Arsenal manager will be handed a significant transfer war-chest and as well as a push for a new right-back signing and a defensive midfield addition Wenger wants to strengthen a front-line that was overly reliant on Frenchman Olivier Giroud last season.
Arsene Wenger sees Reus as the man for the job, a player who perhaps fits the ethos and playing style of the Emirates Stadium side better than Giroud, who's ability to make an impact against top level defences was called into question last term.
Reus has been predominantly used in an attacking midfield or winger role in recent seasons but Wenger feels the former Borussia Monchengladbach man has what it takes to play in a striking role, a point perhaps backed up by his impressive goal-scoring stats.
The cultured Dortmund star has bagged 42 goals in 90 appearances in his two seasons with the club and netted 21 times in his final season at Monchengladbach.
Klopp would be loathed to lose Reus but if the player made it clear he wanted a fresh challenge then there would be little the Bundesliga side could do other than to pursue the best possible deal.
Wenger will look to convince Borussia Dortmund to sell Reus by offering £30m plus the services of Lukas Podolski, to act as a more than capable replacement for their prized asset.
A move back to Germany may well tempt Podolski, who's second campaign at Arsenal could be best described as 'average'.
Reus had to withdraw from Joachim Low's World Cup squad with an ankle injury but the damage sustained is not thought to be a long term problem.
SEE ALSO: The Fastest Players on Fifa 14