Costa Rica humiliate Uruguay, next up for Italy.
All the latest headlines from the newspapers in Italy as the 'Italian lions' start the World Cup with a battling 2-1 victory over England in Manaus.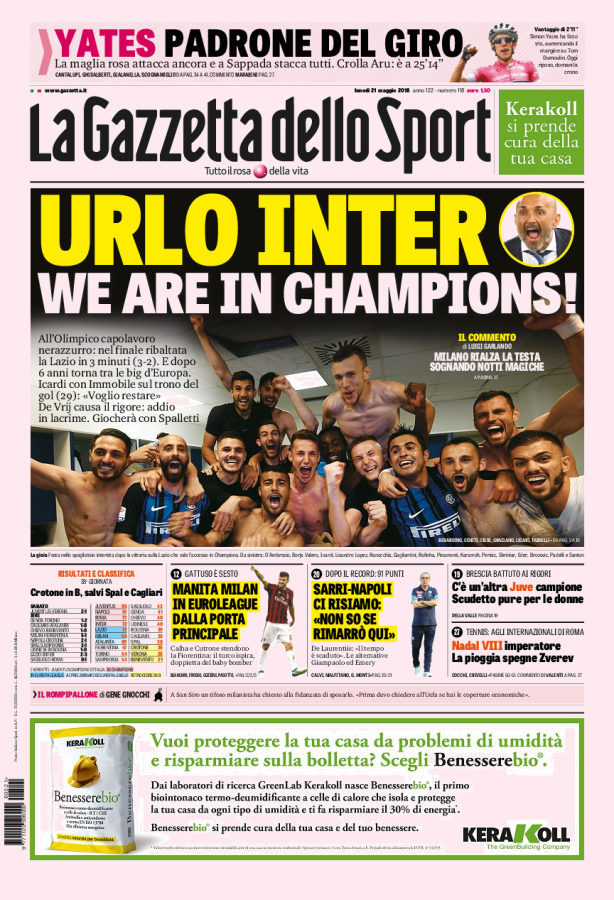 Image courtesy of La Gazzetta dello Sport.
– Buffon crocked.
– How many games will he have to miss? The Italy goalkeeper hurt his ankle in the final training session before the debut.
– Tests rule out the worst, but there is still pain.
– 'I'll be there for the next one,' he says optimistically.
– Costa Rica surprise as they take down Uruguay. Plus the 'Italian' Colombia beat Greece 3-0 with a super Cuadrado.
– Argentina: Messi for the third attempt at a World Cup performance.
– His partner is Aguero against Bosnia.
– Spain are shaken, but Del Bosque insists 'it's just a hangover'.
Image courtesy of Corriere dello Sport.
– Italia oh yes!
– Great victory over England on their World Cup debut in Manaus.
– Marchisio and Sturridge on target, after the break Balotelli is decisive.
– Candreva and Darmian impress.
– Buffon risks having to miss the next game too.
– Costa Rica humiliate Uruguay and wait for us…
– Spain collapse, Diego Costa loses his place.
Image courtesy of Tuttosport.
– 'Italian Lions'.
– Our Brazilian World Cup begins with a triumph.
– Marchisio nad Balotelli take down England 2-1 in Manaus.
– Extraordinary Costa Rica flatten a disappointing Uruguay: 3-1.
– Colombia unstoppable, Greece beaten 3-0.
– Juventus-Barcelona: Sanchez, but not for Pogba.
– New offer for Morata.
– Drogba prepared to lower his wages.
– Toro move for Fausto Rossi and test Seferovic.
– Apoli take on Inter for M'Vila.
– Milan have 17 players who need to be placed somewhere.