Could the loss of Luis Suarez see Liverpool move in the wrong direction…
Check in to Netherlands vs Argentina
We're now just one month away from that start of the new Premier League season, and the transfer sage of the summer involves a big-money move from England to Spain.
Sound familiar? We are of course just a year on from Gareth Bale's record breaking move from Tottenham Hotspur to Real Madrid, which saw the North London club splash their new found fortune on the likes of Paulinho, Nacer Chadli, Roberto Soldado, Etienne Capous, Christian Eriksen, Erik Lamela and Vlad Chiriches.
Twelve months later, and Liverpool find themselves in a similar predicament with Luis Suarez and Barcelona. Taken at face value, to be able to demand in excess of £60 m for a player that is 27-years-old and has an unfortunately checkered history in terms of discipline is more than a good deal.
The Anfield faithful also has every right to be excited by the prospect of Adam Lallana, Emre Can, Rickie Lambert, Lazar Markovic, Divock Origi and potentially other European stars pulling on the famous red shirt come August.
However, they would do well to remember how such actions served Tottenham last season, and five issues they must aim to avoid:
Letting your star player leave can have a damaging effect on a team…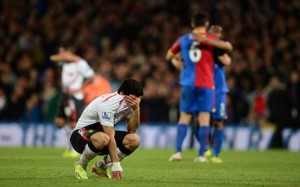 While a world record fee of £85.3 m for Gareth Bale looked like a great piece of business from Spurs, they massively missed the Welshman last season. He was their hub, their driving force – and Tottenham missed his goals and his creativity despite their multiple new signings. With Bale in the team, there was constantly a threat. At times, it felt like Bale was unstoppable, that when he picked up the ball and ran with it that there was simply no way of stopping him. He struck fear into opposition defences in a way no other Spurs player could.
Luis Suarez has a similarly talismanic effect on Liverpool. The rest of the Red's players look to the Uruguayan as a source of inspiration, and rightly believe that he has the ability to completely change the course of a game for them. Liverpool are blessed with many talented attacking players, and a manager in Brendan Rodgers that has created an exceptional team ethic. But are the likes of Daniel Sturridge, Philippe Coutinho and Adam Lallana ready to become the new main man at Anfield? Only time will tell.