The best quotes from around the footballing world on World Cup final day.
The 2014 FIFA World Cup has drawn to a close – and it is Joachim Low and Germany who have lifted the trophy after a nail biting victory over Argentina in Rio de Janeiro.
Mario Gotze was the hero, with the young Bayern Munich midfielder coming off the bench to convert a fine pass by Andre Schurrle deep into the second period of extra time after a tense 0-0 draw.
Both teams end the tournament unbeaten in normal time, but it was Germany who lifted their fourth World Cup trophy, and their first since reunification.
Elsewhere, Louis van Gaal has spoken about his new job at Manchester United, calling for his new troops to show the same 'unity' that the Netherlands did during their run to the World Cup semi-final.
There has also been a blow for Barcelona, who were told by FIFA that they cannot give new signing Luis Suarez an official unveiling under the terms of his four month ban from the game.
Germany players overcome after World Cup victory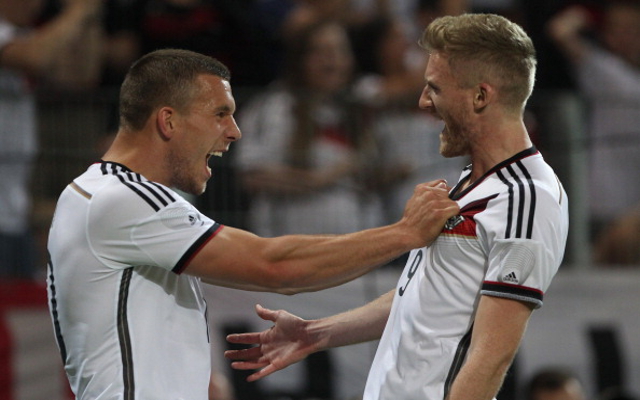 Germany players were, understandably, overcome with emotion and joy after they lifted the 2014 FIFA World Cup following a narrow 1-0 win over Argentina after extra time. Chelsea star and influential substitute Andre Schurrle admitted to shedding a tear or two:
"This is the best moment of my life. I had to cry because I was so overcome. I couldn't stop it. It was always a dream to become a world champion. We are so looking forward to celebrating with our fans in Berlin tomorrow."
Defender Mats Hummels couldn't quite believe what he'd achieved:
"I am still completely trapped in another world, physically too exhausted to be able to rejoice euphorically. But that will come in the coming days."
Captain Phillip Lahm believed that Joachim Low's side were the best team in the competition:
"Whether we have the best individual players or whatever does not matter, you have to have the best team."
"We stepped up time and again in the tournament, did not let ourselves get distracted by any disruption, went on our way."
"And at the end you stand there as world champions – an unbelievable feeling. The team has remained quiet and patient."