Maria Sharapova is a five-time Grand Slam champion…
Maria Sharapova has been hard at work in training for the final tennis major of the year, the US Open, which starts next month.
Never quite sure what day of the week it is during training periods but glad Monday is over #HappyTuesday pic.twitter.com/1OR3pY0QGY

— Maria Sharapova (@MariaSharapova) July 22, 2014
However, all that work has only served to help her already incredible figure look all the more amazing, as can be seen below: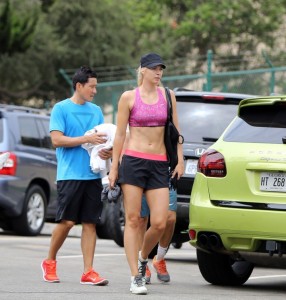 The 27-year-old Russian was the winner of the French Open this year, but only managed to make the fourth round in Australia, and at Wimbledon. She will be aiming to put that behind her by winning a first US Open title since 2006. You can also see more of here California pics here.