Marko Marin has made just six Premier League appearances for Chelsea…
SEE ALSO: Top 10 smoking footballers
It may not be clear what the medical staff of Fiorentina are doing to him, but Chelsea outcast Marko Marin certainly seems to be enjoying himself.
The 25-year-old German, who spent last season on loan with Spanish side Sevilla, is on the verge of completing another season-long move – this time to Italy.
Marin, who joined the Blues from Werder Bremen in 2012, has so far made just six Premier League appearances for the Stamford Bridge outfit.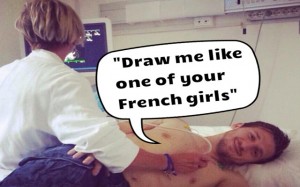 Er sieht so glücklich aus. (via @ACF_Fiorentina) pic.twitter.com/zFTrszeytP

— Martin Hoffmann (@ErzaehlerMartin) August 11, 2014