Old Trafford side ready to invest massive sum in move for Real Madrid star.
Check in to Sunderland vs Manchester United
Talk of a monumental bid for Real Madrid winger Angel di Maria has been circulating wildly over the past 24 hours but would Man United really look to invest as much as £100m in a deal to sign the Argentine?
The Daily Mail reports on the move which would see the 26 year old earn £200k a week with the Premier League side ready to stump up £50m to land the former Benfica man, would this amount to an act of desperation on Louis van Gaal's part or a necessary sum for a player of real quality?
Read more Manchester United transfer news.
Di Maria is clearly a very talented player and talk of his having a 'limited' role last term since the arrival of Gareth Bale doesn't really hold water.
Despite the Welshman moving to the Spanish capital di Maria still racked up 43 starts in all competitions and actually finished the campaign as the club's leading assist maker, laying on a whopping 22 assists.
Angel di Maria put in a man of the match display during Real Madrid's historic Champions League victory over Atletico Madrid, bringing up the club's long awaited tenth success (La Decima) but perhaps the further arrival of James Rodriguez will prove the death knell for the wiry wide-man.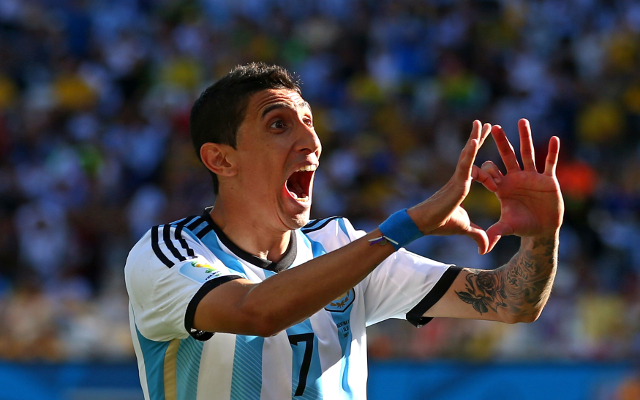 Man United's interest in the Real Madrid man is well known and president Florentino Perez will have to look to sell one, perhaps even two, of his top talents in order to help his side adhere to UEFA's FFP (Financial Fair Play) guidelines following the near £100m invested in Rodriguez, Toni Kroos and Keylor Navas.
The £200k a week wage offer, spread over a five year period, will cost Man United £52m and whilst that sum may sound astronomical such a salary would still see di Maria earn less than the likes of Wayne Rooney and Robin Van Persie.
PSG are also said to be looking to land the Real Madrid man but the offer detailed above may even blow the big spending Ligue 1 side out of the water.
Chief executive Ed Woodward has been tasked with the job of bringing in big name signings as Man United look to erase the memory of last term's disastrous seventh place finish. Indeed one of the reasons for mounting such a massive offer for di Maria is the need to make up for the lack of Champions League action in 2014/15, a carrot the club can not dangle in front of prospective targets this summer.
Thus far Man United's only signings of note have come in the form of England teen Luke Shaw and Spanish midfielder Ander Herrera and arguably neither of those additions could be termed as 'Marquee' captures and Louis van Gaal will be as desperate as ever to bring in a player of note having seen his side slip to an opening day defeat to Swansea City.
A move of this magnitude would act as a real statement of intent from a side looking to rebuild their reputation though the bid has to succeed in order to act as such, a task that may be beyond Man United, such has been the damage inflicted upon the Old Trafford outfit during David Moyes's brief reign.
SEE ALSO:Premier League Predictions of the final standings in 2014/15!