Liverpool are believed to be interested in signing Radamel Falcao this summer…
SEE ALSO: The Best Liverpool goals.
A fiendishly sneaky Twitter user landed Puma in hot water during their latest advertising campaign, by making AS Monaco forward Radamel Falcao accidentally insult Liverpool.
The Daily Mirror reported on the error, with Twitter followers being offered the opportunity to win a signed photo from their favourite player, addressed personally to the 'handle' (or name) they use on the social media website.
One user changed his name to: "LiverpoolAreW***", and received this in return from the Colombian striker. It's a trend that is now being repeatedly exploited, with user's changing their handles back to normal after receiving the photo.
Manchester City striker Sergio Aguero was also caught out, but his message was too inappropriate for us to show here!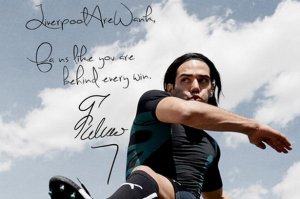 SEE MORE:
Most expensive players of all time
Read more Liverpool FC rumours
Hottest Celebrity Football Fans