Yaya Sanogo inadvertently trolled Cesc Fabregas on Twitter…
SEE ALSO: Best Premier League players 2014/15
Arsenal striker Yaya Sanogo has mistakenly mocked former Gunners star Cesc Fabregas on Twitter – retweeting this post by an unfortunately names follower.
Many Arsenal fans have pulled up Fabregas's tweet: 'Once a Gunner, always a Gunner' since his £30m move from Barcelona to Chelsea.
And now young striker Sanogo has got involved too after Fabregas produced a Man of the Match performance on his Chelsea debut at Burnley. The forward quickly deleted the tweet, but the damage was already done.
Sanogo, who was given the nod up front for the first weekend of the season by Arsene Wenger, taunted Chelsea manager Jose Mourinho before Arsenal's FA Cup final victory earlier this year, and today he fired shots at ex-Gunner Fabregas – if only by accident on this occasion.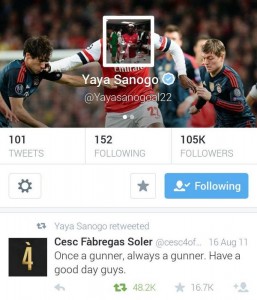 SEE ALSO:
Premier League Predictions of the final standings in 2014/15!
Top 60 hot WAGs in the Premier League 2014, featuring Arsenal, Liverpool, Man United and Chelsea Stunners.
FIFA 2015 Player Ratings Revealed.