Hilarious. Blues striker Diego Costa has been spotted at an RBS cash machine following his goal-scoring performance against Leicester City, where he netted his second goal in two games.
Check in to Everton vs Chelsea
It's always amusing/interesting to see professional footballers doing things that we mere mortals take for granted. We assume that millionaire star performers had minions who took care of the more mundane moments in life, turns out Brazilian born Spanish international Diego Costa doesn't roll like that.
Read more Chelsea transfer rumours.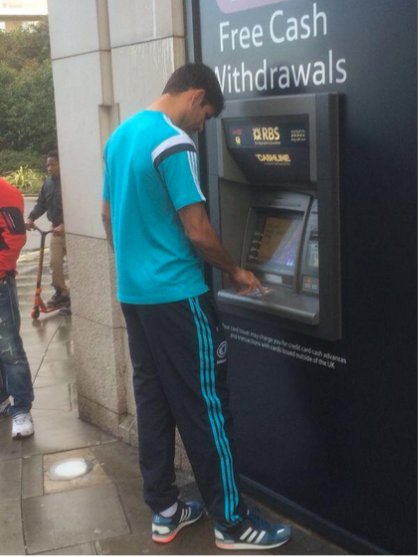 Clearly the former Atletico Madrid striker is pretty relaxed about life in England, hell he's made no attempt to disguise himself from the gaze of curious onlookers, he's wearing his Chelsea colours!
SEE ALSO: best Premier League players 2014/15