How a Liverpool team might look using only players signed this summer…
SEE MORE: Greatest football team of all time! Check out the best XI of the 21st Century
Liverpool have already signed nine new players this summer, and there could still be more arrivals on the horizon. It has been suggested that Brendan Rodgers has retained his interest in Bayern Munich winger Xherdan Shaqiri, while they have also been linked with Argentina's World Cup goalkeeper Sergio Romero.
Here is how a Liverpool team made up entirely of summer signings could look:
GK) Sergio Romero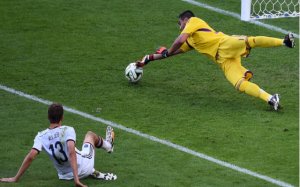 The 27-year-old Argentine World Cup goalkeeper is believed to be available from current club Sampdoria, and could provide useful back-up to Simon Mignolet.