What was learned from Manchester United's draw with Burnley…
SEE ALSO: Best Premier League players 2014/15
Manchester United were held to a 0-0 draw by Burnley on Saturday as Louis van Gaal's search for a first win as United boss roles on. Here are five things we learned from the game…
Louis van Gaal is sticking with 3-5-2… for now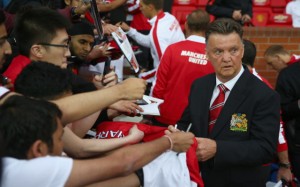 Four games – two draws, two defeats and only two goals, but Louis van Gaal is sticking with his 3-5-2 formation. The question remains though – does he have the players to use the system regularly?
United have spent a lot of money this summer, and have a wealth of attacking options – but have not signed the player vital to making the formation work: a world class centre-back.
If Van Gaal insists on 3-5-2, with Antonio Valencia and (when fit) Luke Shaw as the attacking full-backs, then he has five spaces left in his team. Say that they will be filled by Herrera, Di Maria, Mata, Rooney and Van Persie. Where do you put Daley Blind? If you play Blind to balance out an overly attacking line-up, then you need to drop Mata or Di Maria, and that's without even considering the likes of Michael Carrick and Darren Fletcher.