Emirates Stadium side preparing ahead for two big name signings.
Check in to Arsenal vs Manchester City
Arsenal boss Arsene Wenger is readying summer moves for German international pair Marco Reus and Sami Khedira in the knowledge that both players are highly likely to be leaving their respective clubs at the end of the current campaign.
The north London side already possesses three members of Joachim Low's 2014 World Cup winning squad and Wenger will look to complete moves for two long term targets with deals in place to bring in the Borussia Dortmund and Real Madrid stars.
Read more Arsenal transfer news.
27 year old midfield battler Khedira is seen by Wenger as a replacement for Spanish veteran Mikel Arteta and the defensive midfielder is arguably a better fit for the role and will be out of contract at the end of the 2014/15 season.
It appears that only the former Stuttgart player's wage demands prevented a summer deal to bring in the Bernabeu man but such demands will be less relevant given Arsenal will not have to pay a fee for Khedira.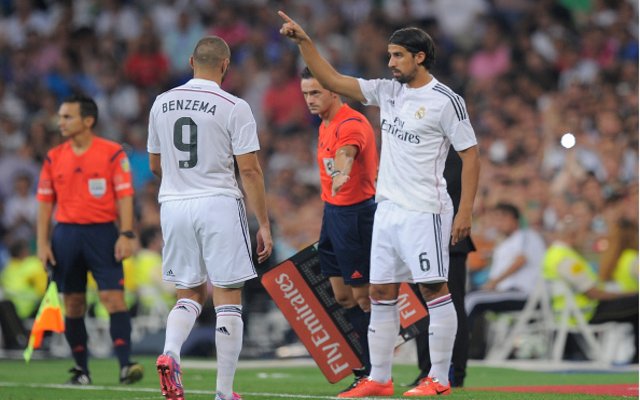 Arsenal will happily meet Khedira's £150k a week salary expectation and offer a long term contract and the Emirates Stadium side are leading the chase to sign the Real Madrid man.
Borussia Dortmund attacker Marco Reus's recently signed contract includes a £27.5m release clause that only becomes active in the summer of 2015 and Wenger is said to have already sounded out the Westfalenstadion star over a move next year and was encouraged by talks on the matter.
Arsenal made a late bid for Reus this summer but that was seen more as a statement of intent to show the former Borussia Monchengladbach man they mean business.
Wenger wishes to use Reus in a striking role, with the flair player currently being used more in a supporting role behind Jurgen Klopp's front-men.
There is no doubting Reus's abilities in front of goal, his 43 goals in 92 appearances for Borussia Dortmund are a testament to that fact, and should his side once again fail to get anywhere near runaway Bundesliga favourites Bayern Munich this season then one imagines an exit is likely.
Indeed Klopp's move to re-sign Man United's Shinji Kagawa could well have been completed for fear that Reus would look to leave should Borussia Dortmund's push for major silverware amount to nothing for a third successive season.
SEE ALSO: best Premier League players 2014/15