Old Trafford side lining-up move to re-sign Portuguese international.
Check in to Manchester United vs QPR
Man United are preparing the groundwork for a major transfer coup next summer with the club's owners confident of re-signing Cristiano Ronaldo in a £55m deal.
CaughtOffside understands that whilst Louis van Gaal had pushed to bring in Radamel Falcao to boost his Old Trafford attack for the coming season he has his sights firmly set on bringing back fan favourite Ronaldo, which in turn would lead to the AS Monaco star moving to the Bernabeu on a permanent switch.
It's a move that's said to suit all parties with Real Madrid president Florentino Perez having taken a keen interest in Falcao but failing to get his man due to having spent upwards of £100m to bring in the likes of James Rodriguez, Toni Kroos and Keylor Navas over the summer.
Top 10 Man United players on FIFA 15
Though Ronaldo will have turned 30 by the summer of 2015 Man United's money men are confident that the outlay needed to convince Real Madrid to sell, as well as the funds needed to meet the two time Balon d'Or winner's salary expectations, will be more than covered by the shirt sales and sponsorship possibilities gained from such a high profile capture.
Read more Manchester United transfer news.
Man United had entertained the notion of such a move this summer but the lack of Champions League action is likely to have rendered any move next to impossible.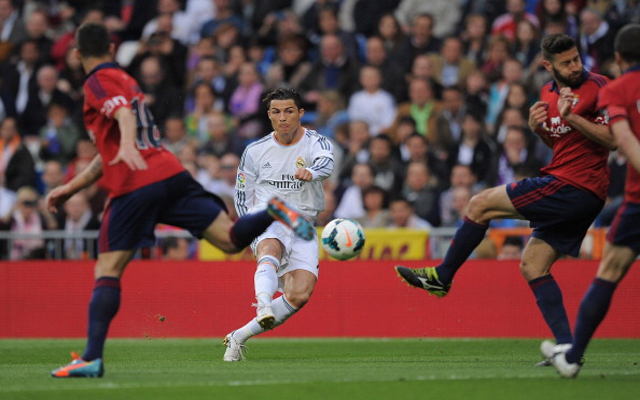 Van Gaal has invested over £150m in his squad so as to attain, at the very least, the top four finish necessary to regain entry to the Champions League and having done so the Dutch manager will then sanction a move by chief executive Ed Woodward to re-sign Ronaldo.
These moves are all part of an overall plan to adopt a more aggressive transfer policy, one which the Daily Telegraph states will see Man United ready, willing and able to sign a 'Luis Suarez a year'.
Man United's finances have been greatly buoyed by a lucrative ten year deal signed with kit suppliers Adidas, a deal to the tune of £750m, which will aid in the club's pursuit of erasing the memory of last season's dreadful seventh place Premier League finish.
Though Ronaldo has proven a massive success since moving to the Spanish capital in 2009, scoring a phenomenal 255 goals in 250 appearances, Real Madrid have secured just one La Liga title in the five completed seasons he has been at the club and may feel the time is right to return to Man United, not least as he secured a Champions League triumph with his Spanish side and could feel his work there is done.
The arrivals of Gareth Bale and James Rodriguez could leave Ronaldo feeling he is sharing the spotlight with other stellar signings and the Portuguese national team skipper has repeatedly affirmed his desire to one day return to the club he represented from 2003 to 2009.
Man United will enlist the help of former boss Sir Alex Ferguson to help persuade Cristiano Ronaldo to return, the pair retaining a close friendship and the club have promised to offer the player the number nine shirt he wore with distinction during his previous spell with the Premier League side.
Find out who are the richest footballers in the Premier League here.