Daniel Sturridge will miss England's game with Switzerland on Monday…
Daniel Sturridge is injured… again. It's a statement that we're becoming increasingly used to saying, and a fact that could hamper an extremely promising young career.
The 25-year-old is a wonderful young player who has proved himself invaluable to both club and country over the last 18 months. But, unfortunately, he is steadily gaining a reputation for being somewhat fragile.
Of course, he is not the only player who is known as being injury prone, here is the Premier League's top ten treatment room bound stars:
SEE ALSO:
Best Premier League players 2014/15
Greatest football team of all time! Check out the best XI of the 21st Century
All the Premier League done deals.
10) Stevan Jovetic (Manchester City)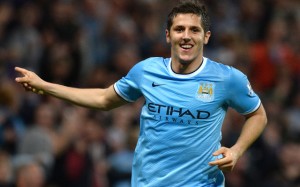 The Montenegro international's hopes of a Premier League career came close to being dashed when injury restricted him to just 16 indifferent appearances last season. But the 24-year-old returned on song this summer, scoring twice in his team's 3-1 win over Liverpool.