Quickest Premier League players last season, including Chelsea and Arsenal speed merchants…
Players are getting faster. For many years now, footballers have also been professional athletes, many of whom are capable of reaching great speeds over both long and short distances.
However, the top five speeds recorded by Premier League players last season may surprise you. Or at least, the identity of the players concerned might do. Click through the list below and find out who was the fastest star in England last season:
Comment below with who you think will go faster this season!
SEE ALSO:
Best teenagers in world football
(Hot WAG Gallery) Sexy pictures of Cristiano Ronaldo girlfriend Irina Shayk.
Greatest football team of all time! Check out the best XI of the 21st Century
5) Theo Walcott (Arsenal, 20.42 mph)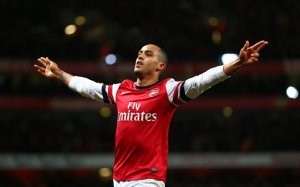 No surprise to see the pacey Arsenal winger near the top of this list. The player has already promised to come back quicker this season, once he has finished his recovery from an injury sustained in January.