Old Trafford side prepare transfer coup of epic proportions.
Check in to Manchester United vs QPR
Man United are preparing to launch a big money bid for Real Madrid star Cristiano Ronaldo with the club's owners keen to land the Portuguese international next summer.
Though the former Old Trafford hero will have turned 30 by the time the 2015 summer transfer window opens the Premier League are ready to offer £60m for his services, a sizable bid that the Bernabeu side may be tempted to accept.
Read more Manchester United FC news.
Having brought in the likes of Gareth Bale, Toni Kroos and James Rodriguez over the past two summer windows president Florentino Perez may be looking to plan for the future knowing that he will need to balance the books before continuing to do so.
By all accounts Ronaldo is open to a move back to Man United, not least as whilst he has individually delivered the goods in a big way since moving to the Spanish capital his side has not achieved a great deal since his 2009 move to the club.
Man United team news: Radamel Falcao set for Old Trafford debut
In five completed seasons Cristiano Ronaldo has represented Real Madrid they have won the La Liga title just once and though last term's Champions League triumph, Real Madrid's tenth success in the tournament, there is an overwhelming sense that Los Blancos have not been nearly as successful as they should have given the sums of money spent on the latest raft of Galaticos.
Man United's American owners handed Louis van Gaal £150m to invest in new additions this summer, in part to erase the memory of last term's disastrous seventh place finish but also to aid their return to the Champions League top table.
Once this has been achieved, and that's the very least they will demand of van Gaal, they will look to re-capture Ronaldo in a transfer coup that will act as a statement of intent from a club looking to enter a bold new era.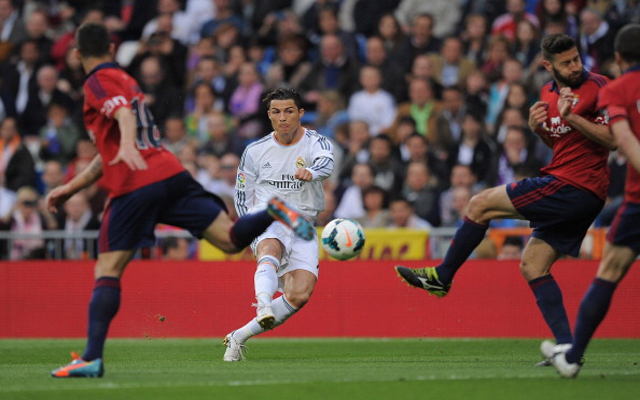 Man United will rack in £750m from a new ten year kit supplier deal with Adidas and will make the lion's share of the funds each season available for new signings.
Ronaldo is at the peak of his powers, finishing last term with 51 goals from 47 appearances, finishing the campaign as the top scorer in both La Liga and the Champions League and winning the Balon d'Or to boot.
Man United are ready to meet Ronaldo's massive wage demands and will offer the attacker a four year deal, the club captaincy and the club's number nine shirt, which he wore with distinction in his previous spell.
To help meet the overall cost of such an offer Javier Hernandez and Tom Cleverley will be made available, with the players currently on loan at Real Madrid and Aston Villa respectively, moves that will act as shop windows for the pair.
Marouane Fellaini, Ashley Young, Anderson and Rafael will also be shown the door with all four players having their work cut out to prove themselves worthy in the coming campaign.
Find out who are the richest footballers in the Premier League here.