Interesting numbers…
Chelsea summer signing Diego Costa has certainly made an instant impact in England following his £32m transfer from Atletico Madrid.
The 25-year-old has played just four Premier League games for the Blues, but he has already netted seven times, including a hat-trick in Saturday's 4-2 win over Swansea City.
Costa compares very favourably against Chelsea's other huge-money strikers when it comes to how quickly he has found his feet in the Premier League.
It took £24m man Didier Drogba 18 games to bag his first seven league goals for the Stamford Bridge outfit, while £30m signing Andrei Shevchenko had to wait 41 games before reaching the magic number.
Chelsea's all-time record signing Fernando Torres, who joined from Liverpool in a £50m move in January 2011, took 43 games to hit seven league goals for Roman Abramovich's men.
SEE ALSO:
Can You Identify These Footballers From Their Childhood Photos?
Arsenal vs Man City WAGs Grudge Battle.
(Images) Mario Balotelli Shorts Fall Down.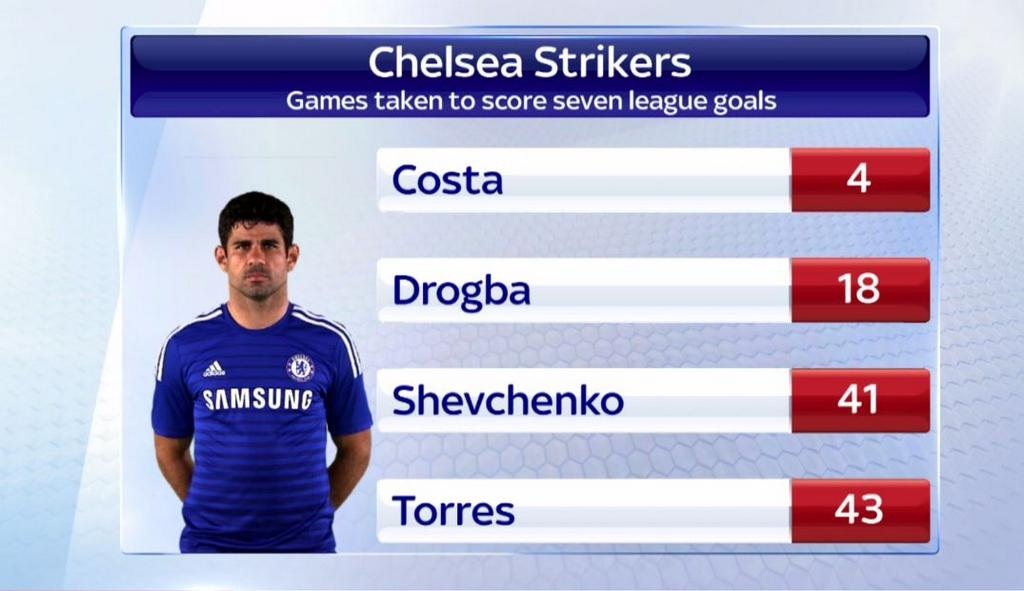 Stats courtesy of Sky Sports.
Chelsea's win over Swansea sent the Blues two points clear at the top of the Premier League.
Aston Villa, who won 1-0 at Liverpool hours later, are currently second in the table.
SEE MORE:
Top 40 hottest female tennis players in the world 2014.
Worst Football Shirts Ever, Including Arsenal, Liverpool And Chelsea Abominations.
Top 100 Sexiest Football WAGs In The World 2014.