PSG received a less than warm welcome from their visitors on Wednesday…
Ajax fans mocked the arrival of their Champions League visitors Paris Saint Germain on Wednesday, with a banner referencing a celebrity with the same name that they'd rather be watching.
SEE ALSO:
Top Champions League players Tuesday Evening: with Liverpool's Mario Balotelli Included
Champions League Top Scorers – Lionel Messi and Cristiano Ronaldo close in on the record
Best Possible Champions League XI with only one player from each team
As you can see in the picture below, the banner reads: "The only Paris we like made a sex tape" – referencing American celebrity Paris Hilton. The game itself finished 1-1, with Lasse Schone cancelling out Edinson Cavani's opener.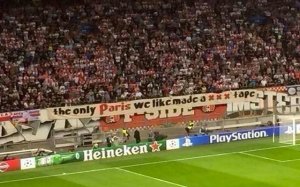 Top 60 hottest WAGs in the Premier League 2014, featuring Arsenal, Liverpool, Man United and Chelsea Stunners.