Twitter explodes with hate following seemingly tame jibe by Anfield star.
WARNING: THIS ARTICLE CONTAINS CONTENT WHICH MAY OFFEND AND/OR UPSET.
Liverpool striker Mario Balotelli was subjected to a torrent of vile racist messages on Twitter on Sunday.
The abuse began immediately after Balotelli tweeted "Man utd … LOL", in response to Manchester United's 5-3 defeat at Leicester City.
Please be warned, some of the below content is pretty unpleasant.
One of the guilty tweeters, Craig Sainsbury, who referred to himself as a "freelance journalist" in his Twitter bio, has since deleted his account.
SEE MORE: "LOL" – Liverpool Striker Mario Balotelli Trolls Hapless Manchester United On Twitter.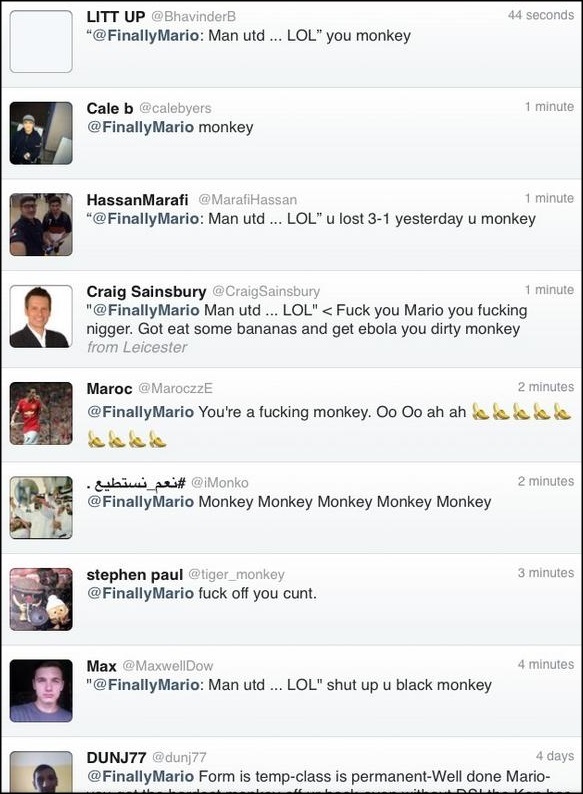 SEE MORE:
(Hot WAG Gallery) Meet Bastian Schweinsteiger's Magnificent Girlfriend Sarah Brandner!
Victor Valdes Liverpool: Latest On Reds Move For Former Barcelona Goalkeeper.
Cristiano Ronaldo Arsenal: Arsene Wenger Regrets Failed Bid For Portugal Goal Machine.