Tyson Fury takes on Dereck Chisora in November…
Tyson Fury taped his mouth shut at a press conference today, in protest against fines a for misconduct charge – according to reports in the Guardian.
SEE ALSO:
Mario Balotelli Car: Liverpool Striker Lets Young Fans Drive His Ferrari!
Top 100 Sexiest Football WAGs In The World 2014.
Hottest Celebrity Football Fans
Fury refused to speak after BBB of C (British Boxing Board of Control) fined him £15,000 for behaviour at a previous press conference in June, in which the 26-year-old launched into a number of expletive-ridden rants at Dereck Chisora and journalists.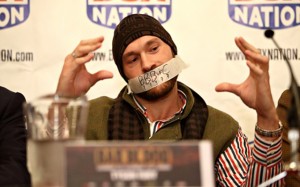 The unbeaten heavyweight will face Chisora for a second time at London's ExCel in November, after winning the first bout on points in 2011. Fury, who has won 22 fights to date, signalled with hand gestures that he plans to keep the tape on for all interviews ahead of the bout and that he would knock Chisora out in the first round.
Promoter Mick Hennessy, speaking on Fury's behalf, said: "At the end of the day you need characters to be able to be themselves whatever they're confronted with. Sometimes you're going to get a gentleman with Tyson and sometimes, if he's rubbed up the wrong way, you'll get another side of him.
"At the end of the day surely he should be allowed to be himself. We could be in jeopardy of this fight not happening – we all want the fight to happen so that's what this is about."
SEE ALSO: Top 40 hottest female tennis players in the world 2014.