Turkish Airline delete tweet linking them with Chelsea…
Turkish Airlines recently confirmed a deal to become Chelsea's new shirt sponsor, but were forced to delete their own tweet announcing the agreement in an embarrassing publicity gaffe.
SEE ALSO :
Top 100 Sexiest Football WAGs In The World 2014.
Top 18 Hottest Arsenal WAGs 2014: Arsene Wenger's Wife On The List!
Amazing Ryder Cup WAGS In All Their Glory.
However, the new deal is still likely to be in place for the 2015/2016 season, after Chelsea's long association with Samsung, that has lasted since 2005, comes to an end.
See the original tweet below: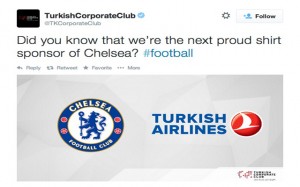 SEE ALSO: Top 40 hottest female tennis players in the world 2014.