This former Chelsea star has lashed out at Tottenham after their midweek fixture…
Ex-Chelsea striker Demba Ba took a sly dig at former Premier League rivals Tottenham after their Europa League draw in midweek.
SEE MORE:
Tottenham Starting XI v Southampton: Tottenham starting XI v Southampton: Harry Kane set for well deserved start.
Arsenal Starting XI v Chelsea: Arsenal starting XI v Chelsea: Jack Wilshere returns and Alexis Sanchez is on the left.
Best Finishers Football: Ten best finishers in world football: Manchester United duo included, Diego Costa surprisingly low.
Spurs took a first half lead against Ba's new side Besiktas, but the Turkish side were arguably the better side throughout the match and were unlucky not to equalise on a number of occasions.
The Senegal international salvaged a point for his team with an 89th minute leveler, but he and the rest of his team were aware that they deserved more after outplaying Mauricio Pochettino's side at White Hart Lane.
Ba took to Instagram to make his frustration known, letting Spurs fans know exactly what he thought should have happened.
"Deserve more but i so proud of my team Daha fazlasini hak ettik ama takimimla gurur duyuyorum. #BigBlackKartal"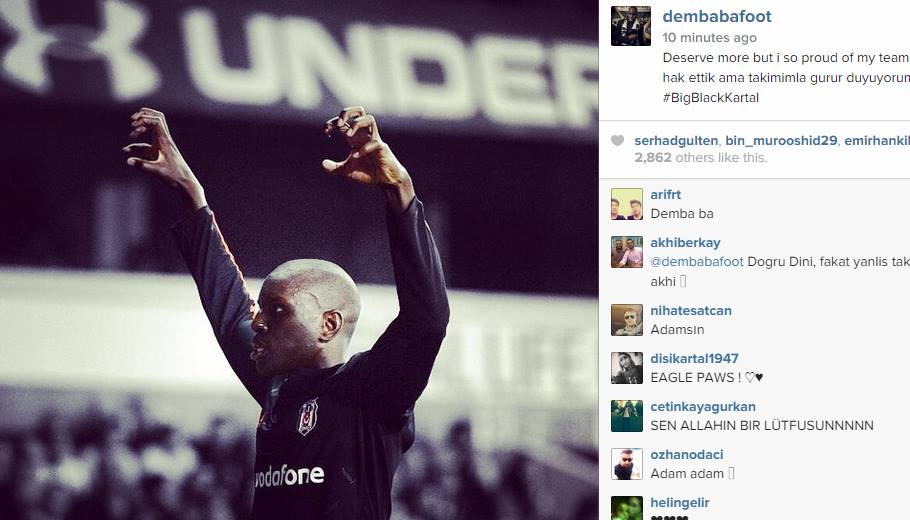 Having joined Chelsea in 2013, Ba made just 33 appearances for the club scoring seven goals. He moved to Besiktas in the summer and the 29-year-old has looked like an excellent acquisition for the Turkish side.
Although his new side were knocked out of the Champions League qualifiers when they played Arsenal earlier in the season, Ba looked a constant threat in front of goal.