This former Manchester City star has unbelievably compared Manchester United legend Roy Keane to Saddam Hussein…
Former Manchester City star Alf-Inge Haaland has likened Manchester United legend Roy Keane to Saddam Hussein. This is just the latest shot fired as part of an ongoing battle between the two.
SEE MORE:
Balotelli Tabby Brown: Liverpool's Mario Balotelli snapped with newest WAG, stunning underwear model Tabby Brown.
Sanchez Punches Ivanovic: (Video) Arsenal's Alexis Sanchez could face action after being caught punching Chelsea's Branislav Ivanovic in the face.
Ronaldo Manchester United: Manchester United fans are celebrating with Ronaldo set for Old Trafford return in January.
The pair famously hated each other, with Keane even admitting to his dark intentions in his first autobiography regarding a tackle that ended Haaland's career.
In his latest book the United hardman again criticised the Norwegian, claiming that he was not to blame for Haaland's retirement and that the City man was fine to continue playing.
"Haaland finished the game and played four days later, for Norway," Keane said. "A couple of years later he tried to claim that he'd had to retire because of the tackle. He was going to sue me. It was a bad tackle but he was still able to play four days later."
After being prompted by his compatriot and former Southampton striker Egil Ostenstad, the retired Scandinavian footballer took to twitter to respond to the allegations. He hilariously likened Keane to Saddam Hussein, claiming he couldn't take the Aston Villa assistant manager seriously with a beard like that.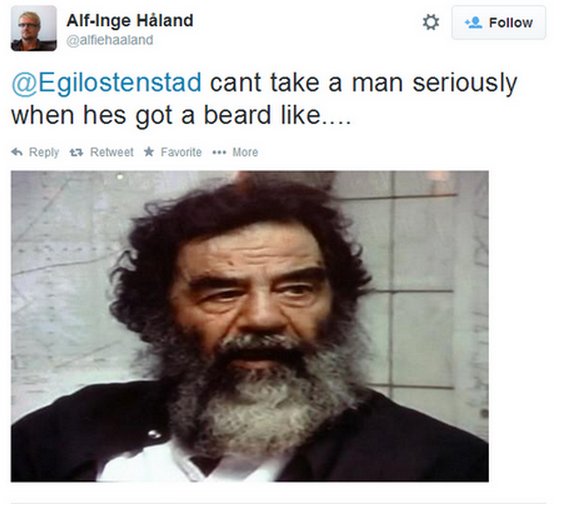 How these two are still at each other's throats after all these years is a mystery. Keane seems intent to stir things up in his latest book, and Haaland is certainly not beyond a retort. Will this feud ever end?