Lots of teams have suspiciously bad emblems, but Honduras' probably takes the award for the most boring.
Sometimes you see a crest that makes you wonder how it was agreed upon by a club's authorities. MLS side Columbus Crew had one such logo until their recent re-brand into a Bayern Munchen / Borussia Dortmund hybrid earlier this week (image below).
The old (left) and the new (right):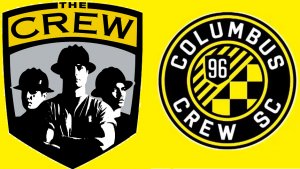 However bad some logo's are though, most of the worst are at least interesting – they manage to hold people's attention while they try to decide the what, why and who the crest is trying to represent.
SEE MORE
Hot WAGs – 60 stunning premier league wives and girlfriends
(Video) Watch 10-year-old Wayne Rooney Score Great Goal At Anfield – But not for Everton or Man Utd!
(Images) Cristiano Ronaldo Topless – Real Madrid star shows off abs in 60 nations
Not so with CONCACAF's Honduras. They probably hold the title for blandest international badge in world football. We can't imagine where they got the idea from… 'H' for horrible?