Reds fan with no shoes lets Luis know that he is still loved.
Luis Suarez is currently serving a four-month suspension for biting Italy defender Giorgio Chiellini at the 2014 FIFA World Cup.
The 27-year-old, who joined Barcelona from Liverpool in the summer, is not allowed to appear in competitive fixtures until October 25.
However, he was permitted to play for Uruguay in a friendly against Saudi Arabia on Friday.
The game finished 1-1, with Suarez playing a part in his team's goal.
After the match, a shoeless supporter, dressed in a replica Liverpool jersey, ran onto the field and gave Suarez a big hug.
Check out the love-fest below.
SEE ALSO:
Hot WAGs: 60 Stunning Premier League Wives & Girlfriends
(Video) Watch 10-year-old Wayne Rooney Score Great Goal At Anfield… For Liverpool
(Images) Cristiano Ronaldo Topless All Over The World: Real Madrid Star Shows Off Abs In 60 Nations.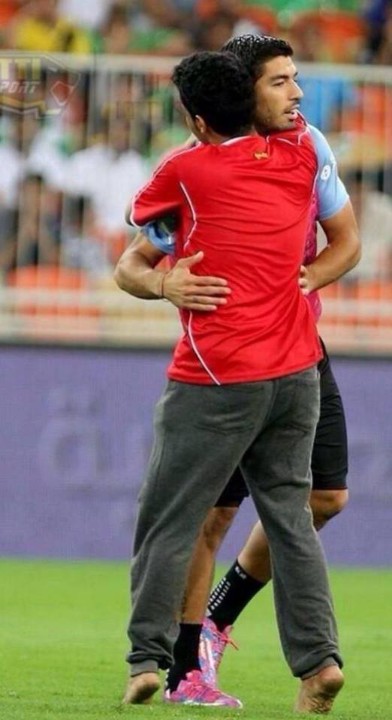 SEE MORE:
Top 25 Ugly Football Shirts: Including Arsenal, Liverpool & Chelsea Abominations.
Hot Tennis Players: 40 Stunning Female Racket Stars.
Six Teenagers Who Will Be Huge Stars In Five Years, Including Liverpool Midfielder, Arsenal Wonderkids & English Chelsea Prodigies.