This stunning Manchester City fan decided to celebrate her team's win yesterday by snapping herself in nothing but body paint…
To celebrate Sergio Aguero's superb performance against Tottenham yesterday, which saw the Argentine score an impressive four goals, this fan has donned a rather unusual kit.
SEE MORE:
Sneijder WAG: Wesley Sneijder's beautiful WAG celebrates Galatasaray win with two equally stunning gal pals.
Guardiola Manchester City: Manchester City want Bayern Munich boss Pep Guardiola to replace Manuel Pellegrini.
Aguero Madrid: Manchester City tell Real Madrid to pay £85m for Sergio Aguero.
To show support for her free scoring hero, this beautiful Citizen's fan painted a Manchester City kit onto her body.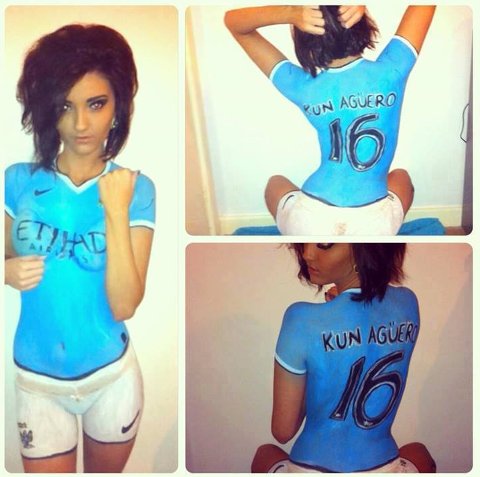 It's hard to tell what, if anything, she is wearing underneath. It certainly isn't a lot, that's for sure.