Alarming stats show that Real Madrid's Cristiano Ronaldo is better than the entire Liverpool team ahead of Champions League clash on Wednesday…
Liverpool host Real Madrid at Anfield this Wednesday, but these shocking stats suggest the Premier League club could be in serious trouble.
SEE MORE:
Ozil Affair: Shocking! Transcript released of Mesut Ozil's flirty Whatsapp conversation with Melanie Rickinger.
Sterling Real Madrid: Liverpool star Raheem Sterling is set to reject Real Madrid and sign a new £100,000 per week contract with Liverpool.
Liverpool Real Madrid: Liverpool aim for Manchester United style spending spree with £79.8m Galacticos trio top of the list.
The La Liga giants demolished Levante 5-0 ahead of their trip to England, Carlo Ancelotti's team once again looking extremely impressive.
As is to be expected, Cristiano Ronaldo is the driving force behind Real's fine form; with the Portuguese forward scoring for fun recently.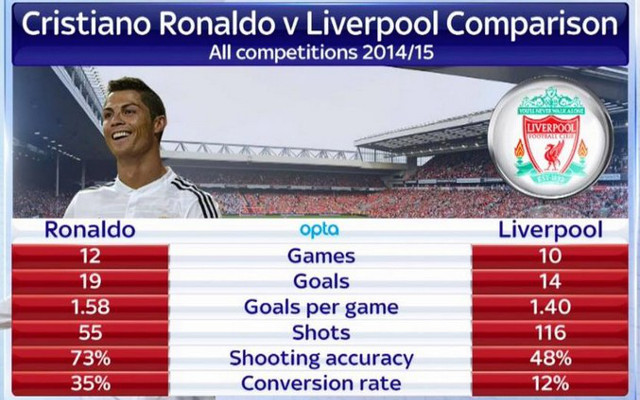 With 15 goals in seven La Liga matches, Liverpool fans are sure to be quaking in the boots at the thought of welcoming him to Anfield.
Injuries to some key players and new signings yet to really click have meant the Merseyside club have been remarkably erratic and inconsistent so far his season. Brendan Rodgers' side will be looking to kick that habit however, sealing a dominant win against QPR today in order to build confidence ahead of their vital Champions League clash.
With the form he is currently in Ronaldo looks like he could pick apart Liverpool on his own. So can the Premier League side really do anything against the entire Galacticos XI?