Cristiano Ronaldo is worth in excess of £41.5m thanks to these endorsements…
Real Madrid icon and former Manchester United star, Cristiano Ronaldo, is now worth up to £41.5m thanks to his wide variety of endorsements and advertising deals.
SEE MORE:
Liverpool vs Real Madrid live streaming
Anderlecht vs Arsenal live streaming
Sami Khedira Arsenal transfer set to be free!
The Daily Mail explain his worth with this diagram. With over 100m 'likes' on Facebook and 30m fans following him on Twitter, the Portuguese star is easily one of the most famous faces in football and for that reason huge companies across the globe clamber for a piece of Ronaldo.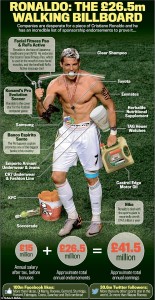 SEE ALSO: Best Premier League players 2014/15